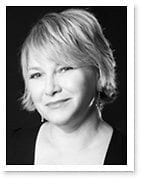 I have my Bachelor of Arts degree from the University of Victoria's School of Writing where I studied poetry and fiction.  I am a studied communicator and that gave me a lot of potential and opened up many writing possibilities for me.
It was a natural progression for me into the magazine industry.  I began as an assistant editor at New Star Books in Vancouver, then became a writer—and not long after, editor—of a newspaper in the Kootenays.  Working for the newspaper for several years I quickly developed a love of reporting.
I had the opportunity to indulge my passion for magazines when I moved back to Victoria and for five years was editor of a women's magazine.  I am a magazine junkie! I just get magazines, and they are a pleasure to read and I really wanted to get back into the industry after my 15-year absence working with my own public relations and design firm.  I got hired at YAM and a year and half later I am now managing editor of both YAM and Douglas magazines.
I love my job because it's like a puzzle plus I also get to work with a great team. I love the writers and meeting people in the community.  It's really a job that satisfies every curiosity.  Every segment of the magazine is my favourite but I really enjoy the feature articles—they provide a good rich read in every issue.
The challenges of being an editor anywhere are the deadlines! I think everyone struggles with deadlines.  To quote Douglas Adams: 'I love deadlines. I love the whooshing noise they make as they go by.'  Also, there is so much great content and writing submitted for each issue that it is a pain to determine what to leave out of the issue—a good magazine is as much what you leave out, as [what] you put in.
To be a successful editor it is crucial to establish good working relationships with the writers.  It is important to honour the writers' ability. Without the writers, there would be no magazine.
I think the local magazine market is growing because they offer a local touch.  Maybe the market for national magazines is not so good, but communities will continue to support local magazines. Local magazines listen to what the readers want.
You can't predict the future! But YAM magazine probably won't be totally digital within the next 5 years anyway.  People like the print experience even with digital issues available.
Social media is wonderful to assist magazines! It's great for advertising ourselves and we can interact more directly with the readers.  It helps create 'brand loyalty', but I think the reason YAM magazine has gained so much love in the community is because we are in touch with our readers.  I like to engage the readers, and have huge respect for them.  The Island is a close-knit community, and the focus of the magazine is the Island.
Reading a magazine is an experience and I think people like to take the time to sit down and enjoy that experience.
— By Krissy Bublitz, Langara College Library Technician Practicum Student with MagsBC, March 2013.