AnnMarie MacKinnon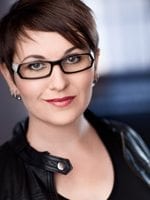 AnnMarie is the publisher at Geist magazine. She has worked in both magazine and book publishing for over a decade in a number of editorial and marketing positions, including for Edible Vancouver and Douglas & McIntyre. She has also worked as a freelance writer and editor.
Session:
The Unique Challenges and Opportunities of Digital Publishing Fri 10:15-11:45 a.m., Oct 27, 2017 UBC Robson Square
AnnMarie MacKinnon of Geist magazine will be discussing various issues and trends in digital publishing with The Tyee's Jeanette Ageson, Bitch Media's Kate Lesniak, Daily Hive's Karm Sumal and National Observer's Jenny Uechi.
Session Sponsor