BAZOOF!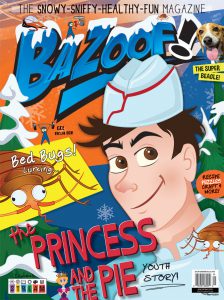 Circulation: 1,000
Readership: 15,000
Frequency: Quarterly
Contact: TeLeni Koochin, Publisher
Address: 1879 W 2nd Ave. Vancouver, BC V6J 1J1
Phone:
Toll-Free: US/CAN 1-877-762-9624
Text or Call: 604-725-7691 (Canadian number, fees may apply)
Email: mail@bazoof.com
Website: www.bazoof.com
Winner of Parents' Choice Awards®, BAZOOF! is a health and creativity print publication with a digital option. It is set in a bustling city in outer space that readers visit as they turn the pages. Along with much fun and adventure, educates on nutrition, personal care, fitness, healthy lifestyles, character development, eco-education-all in a creative and zany style! Now includes STREAM learning to further explore interests and abilities.
Filled with short stories, comics, recipes, puzzles, games, crafts, experiments, jokes, riddles, pet care, interviews, healthy snacks, sports, true stories, fun facts, prizes and more! Enjoy a free look at
topics covered here.
Other Youth Magazines
BACK TO ALL MEMBERS