BAZOOF!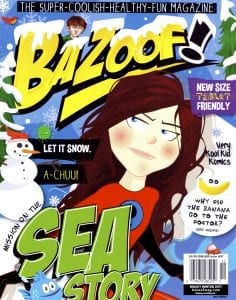 Circulation: 2,000
Frequency: Bi-monthly
Contact: TeLeni Koochin, Publisher
Address: 1879 W 2nd Ave. Vancouver, BC V6J 1J1
Phone:
Toll-Free: US/CAN 1-877-762-9624
Text or Call: 604-725-7691 (Canadian number, fees may apply)
Email: teleni@bazoof.com
Website: www.bazoof.com
BAZOOF! is a vibrant one-of-a-kind 'health' magazine for youth set in a bustling city in outer space. Along with much fun and adventure, educates readers on nutrition, personal care, exercise, character development, being eco-friendly, and the power of a smile…all in a creative and zany style! Filled with youth submissions, comics, recipes, puzzles, games, crafts, jokes, pet fun, plus interviews, true stories, movie posters, cut-outs, prizes and more. Appeals to both girls and boys and is great shared between siblings. Best suited for ages 8-12.
Other Youth Magazines
BACK TO ALL MEMBERS