Common Ground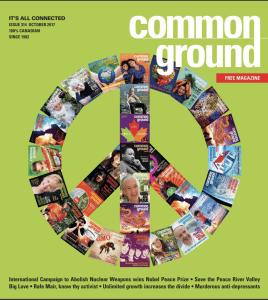 Circulation: 70,000
Frequency: 12 issues/year
Contact: Joseph Roberts, Publisher
Address: 3152 W 8th Ave, Vancouver, BC V6K 2C3
Email: joseph@commonground.ca
Phone: 604-733-2215
Website: commonground.ca
Facebook
Common Ground is an independent publication, 100% Canadian owned. It is Western Canada's biggest and best-loved monthly magazine dedicated to health, wellness, ecology and personal growth.
Common Ground's Publisher and Senior Editor, Joseph Roberts, organized Vancouver's first Walk for Peace and helped start Common Ground magazine in 1982.
They have been making important things happen ever since – always in a socially and environmentally responsible manner – educating and inspiring readers to create a better world.
Witness the successful preservation of the Stoltmann Wilderness, Clayoquot Sound, Stein Valley, Meares Island and Burns Bog, along with support of the Nisga'a treaty, midwifery and naturopathic medicine. Common Ground sounded early alarms about mad cow disease, fish farms and electromagnetic fields.
The covers of the magazine spotlight local artists and photographers, while its monthly directory is BC's biggest listing of local health and personal growth practitioners.
In 2001 Common Ground received the Ethics in Action award as a business that is "doing the right thing."
In 2012 Common Ground celebrated its 30th anniversary.