Culturally Modified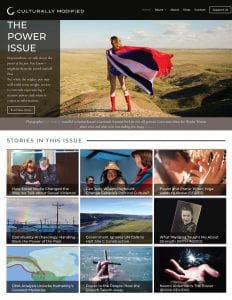 VPY: 21,000
Frequency: 4 issues/year
Contact: Amanda Follett Hosgood, editor
Address: PO Box 4343, Smithers, BC V0J 2N0
Email: info@culturallymodified.org
Phone: 250-877-7858
Website: culturallymodified.org
Facebook | Twitter | Instagram
Culturally Modified is a quarterly online publication sharing research, stories and experience about our cultural resources, both physical and intangible.
Located on the traditional territory of the Wet'suwet'en, we are British Columbia-based and internationally focused, offering high-quality, interdisciplinary perspectives that examine modern-day impacts on culture, as well as culture's influence on today's world.
We value equally education, wisdom and life experience, and we strive for diversity and interconnectivity.
Shop our t-shirts!