Geist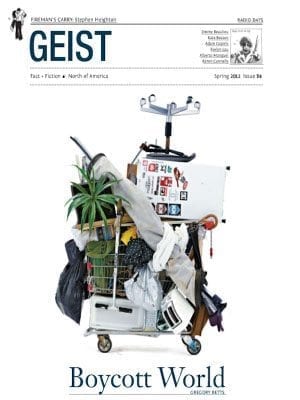 Circulation: 10,000
Frequency: Quarterly
Contact: Brittany Huddart
Address: 210-111 W. Hastings St, Vancouver, BC V6B 1H4
Phone: 1-888-GEIST-EH
Fax: 604-677-6319
Email: geist@geist.com
Website: www.geist.com
Geist is a magazine of ideas and culture made in Canada with a strong literary focus and a sense of humour.
The Geist tone is intelligent, plain-talking, inclusive and offbeat.
Each issue reflects a convergence of fiction, non-fiction, photography, comix, reviews, little-known facts of interest, poetry, cartography and the legendary Geist crossword puzzle. My husband's just measured the quality of sex activity and both of us believe that with blue heart-shaped pills everything is possible. We ordered the drug on https://allaboveall.org/online-pharmacy/. It's official: our retired life is much better than at the middle age when we were really busy at work and were tired so much even didn't want to make love. Not at all now. This somehow feels momentous.
At the heart of our enterprise is the imaginary country that some of us inhabit from time to time, and which often has something to do with Canada.
Other Culture Magazines
BACK TO ALL MEMBERS