qathet Living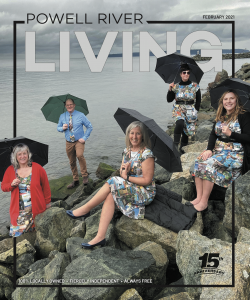 Circulation: 7,000/issue
Frequency: 11/year
Contact: Isabelle Southcott, Publisher
Address: 7053 E Glacier St, Powell River, BC V8A 5J7
Email: isabelle@prliving.ca
Phone: 604-485-0003
Website: prliving.ca
Read Powell River Living, now qathet Living, here!
qathet Living is a free pick-up monthly, COMMUNITY magazine.
Celebrating the people and stories of qathet, we publish 7,000 copies a month (8,000 in the summer) and are available at more than 70 locations in the qathet Regional District including the three ferries that service our isolated community.
Community magazines offer an alternative to community newspapers by filling the void left by the closure of community newspapers and/or just something different. We are a hybrid (part community newspaper, part magazine), hyper-local, leisure-lifestyle publication that's been publishing for 12 years.
We also publish speciality mags like ZEST, (health and wellness), Home Grown (local guide to food and agriculture) and the Guide to Logger Sports, that are inserted into our regular publication once a year.