Room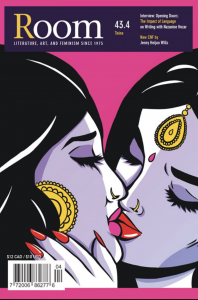 Circulation: 1,400
Frequency: Quarterly
Contact: Shristi Uprety, Managing Editor
Address: PO Box 46160, Stn D Vancouver, BC, V6J 5G5
Email: contactus@roommagazine.com
Website: roommagazine.com
Advertising: roommagazine.com/advertising
Facebook | Twitter | Instagram | YouTube
Room is Canada's oldest feminist literary journal, and has published fiction, poetry, creative nonfiction, art, interviews, and book reviews for forty years. Published quarterly by the West Coast Feminist Literary Magazine Society, also known as the Growing Room Collective, Room showcases writing and art by women (cisgender and transgender), transgender men, Two-Spirit and nonbinary people. We believe in publishing emerging writers alongside established authors, and because of this, approximately 90% of the work we publish comes from unsolicited submissions or contest entries.
Work that originally appeared in Room has been anthologized in The Journey Prize Anthology, Best Canadian Poetry, Best Canadian Stories, and Best Canadian Essays, and has been nominated for National Magazine Awards.
League of Canadian Poets In Conversation with Room magazine's former Managing Editor Chelene Knight [2016/2017].
Featured as one of "29 Amazing Literary Magazines You Need To Be Reading", Arianna Rebolini, BuzzFeed Books, Feb. 16, 2016.
"Room magazine marks four decades of feminist writing with a bold new literary festival", The Georgia Straight, March 1, 2017.
"Room launching feminist literary festival in March", CBCBooks, January 23, 2017.
Other Literary Magazines
BACK TO ALL MEMBERS