Scott Gray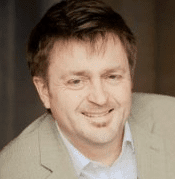 Now vice-president, sales and marketing, for Mitchell Press, Scott has been at the forefront of print communication technology throughout his career collaborating with North America's finest creative minds. This technology included bespoke offset and digital printing, web-based publications, augmented + virtual reality, and digital storefronts to lead with the most effective communication solutions.
Session:
Publication Printing: Making Use of Tomorrow's Print Technology Today Fri 10:15-11:30 a.m., Oct 27, 2017 UBC Robson Square
The latest publication print technology can impact your bottom line and generate new opportunities for revenue. Explore 5 essential questions for your printer at this session:
1. Are you working with the right team?
2. How do tech print tools streamline your publication and save money, and are you ready for it?
3. How do you expedite proofing, decrease time to market, increase retention and save costs?
4. Is Hybrid Litho/Digital for you?
5. Upcoming printer technologies: are they a good fit?