Spruce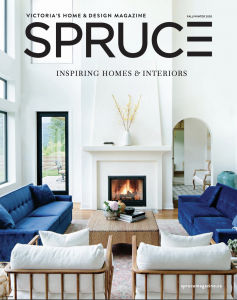 Circulation: 25,000
Frequency: 3 issues/year
Contact: Athena McKenzie
Address: 580 Ardersier Rd, Victoria, BC V8Z 1C7
Email: amckenzie@pageonepublishing.ca
Phone: 250-595-7243
Subscribe here
Read Spruce and other Page One Publishing magazines here!
Website: sprucemagazine.ca
Facebook | Twitter | Instagram
Spruce is Victoria's only magazine dedicated to home building, renovations and remodeling. This high-quality magazine is expertly curated for current and prospective home and condo owners. Spruce reveals Victoria's most interesting and innovative homes, the finest ideas and solutions for renovation and custom building, expert advice and the latest trends.
Brought to you by Page One Publishing, the trusted publishers of YAM and Douglas magazines, Spruce is a content-rich, beautifully photographed home resource that showcases the ideas and resources that make this unique region so sought-after to create that special place called home.
Read about Spruce magazine's former editor-in-chief, Kerry Slavens here.