The Malahat Review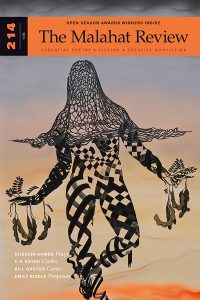 Circulation: 1,700
Frequency: Quarterly
Contacts: Iain Higgins, Editor; L'Amour Lisik, Managing Editor
Address: University of Victoria, McPherson Library, PO Box 1800, Stn CSC, Victoria, BC V8W 3H5
Phone: 250-721-8524
Email: malahat@uvic.ca (L'Amour)
Website: www.malahatreview.ca
The Malahat Review, established in 1967, is among Canada's leading literary journals.
Published quarterly, The Malahat Review features cutting-edge contemporary Canadian and international works of poetry, fiction, and creative nonfiction by emerging and established writers as well as reviews of recently published Canadian poetry, fiction, and literary nonfiction.
On occasion, it also publishes interviews, essays, and issues on a single theme or author.
Other Literary Magazines
BACK TO ALL MEMBERS