Vancouver Magazine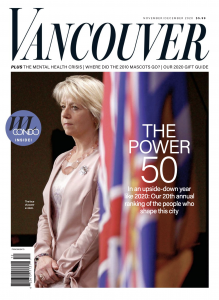 Circulation: 58,000
Frequency: 10 issues/year
Contact: Anicka Quin, Editor
Address: Suite 230, 4321 Still Creek Drive, Burnaby, BC V5C 6S7
Email: mail@vanmag.com
Phone: 604-299-7311 x389
Digital subscriptions: http://vanmag.com/subscribe-to-our-digital-publications/
Website | Facebook | Twitter | Instagram
Vancouver magazine is the indispensable playbook to Canada's most exciting city.
For over 50 years, this city's influencers have turned to our iconic brand for insightful, informative coverage of the issues, the people, the places and the events that shape Vancouver.
From in-depth reporting and analysis of the issues that matter most, to expert fashion and travel guides, reviews of the buzziest new restaurants and the best in wine and spirits, VanMag uncovers what matters now.
Other Business Magazines
BACK TO ALL MEMBERS