Watershed Sentinel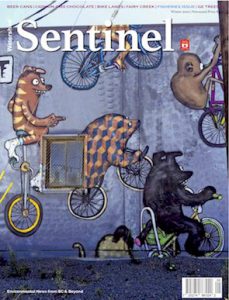 Circulation: 2,500
Frequency: 5 issues/year
Contact: Delores Broten, editor
Address: Box 1270, Comox, BC V9M 7Z8
Phone: 250-339-6117
Email: editor@watershedsentinel.ca
Download and read past issues here!
Website: www.watershedsentinel.ca
The award-winning Watershed Sentinel offers a mix of bioregional and global perspectives on environmental, health and sustainability topics. The magazine focuses on how we affect our world—from logging and fishing practices to how we treat our air and water—and on the solutions that will eventually create a sustainable society.
Read about the Watershed Sentinel's Editor, Delores Broten here.
Other Journalism Magazines
BACK TO ALL MEMBERS