Western Living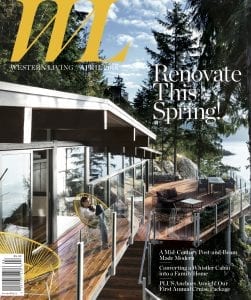 Circulation: 195,000
Frequency: 10 issues/year
Contact: Anicka Quin, Editor
Address: Suite 230, 4321 Still Creek Drive Burnaby, BC, V5C 6S7
Email: anicka.quin@westernliving.ca
Phone: 604-299-7311
Advertisers: http://westernliving.ca/advertise/
Digital subscriptions: http://westernliving.ca/subscribe-to-our-digital-publications/
As Canada's largest regional magazine, Western Living invites readers to stretch their imaginations about living in the West by sharing what intrigues, surprises and thrills us about people, places, homes, gardens, food and adventure from Winnipeg to Victoria and everywhere in-between.
Monthly columns and departments include travel, design and real estate as well as food, restaurants, wine-pairing advice and, as they have been featuring since the inception of Western Homes and Living in the 1950s, stunning homes. I worried much at first. All of us saw something like the cheap pill is fake. But I read many comments about generics. And decided based on positive reviews here toorder anyway some drugs. I order 5 generic Viagra pills, and after submission of order, a special offer appears free gift of 10 generic cialis to try. When I got my order, cialis was really inside by 20mg. havent try it yet. but tried generic Viagra. And definitely can say there is no difference between original I tried before. At least I didn't notice any. Except for price of course.
Western Living Magazine has a distribution of 60,000 concentrated primarily in high-income households in Vancouver, Victoria, Calgary, Edmonton and Winnipeg and is published 10 times a year.
Other Lifestyle Magazines
BACK TO ALL MEMBERS