YAM: Victoria's Lifestyle Magazine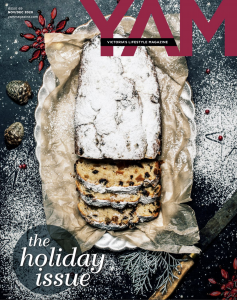 Circulation: 210,000+
Frequency: Bi-monthly
Contact: Athena McKenzie, Managing Editor
Address: 580 Ardersier Road
Victoria, BC V8Z 1C7
Phone: 250-595-7243
Email: amckenzie@pageonepublishing.ca
Website: www.yammagazine.com
Subscribe here
Read YAM and other Page One Publishing magazines here!
YAM is Victoria's most popular lifestyle magazine, artfully curated to celebrate the distinctive flavour and flair of Canada's West Coast, where living on the edge has given rise to a unique culture shaped by the elements — and a lifestyle that blends earthy and elegant.
Through features, profiles and how-to articles, YAM celebrates the vibrant personalities, trends and tastes that make Victoria such a desirable place to live. YAM's engaged readership relies on this sought-after magazine to inspire and inform their lifestyle choices.
Read about YAM magazine's former editor-in-chief, Kerry Slavens here.
Other Lifestyle Magazines
BACK TO ALL MEMBERS