YAM – Victoria's Livestyle Magazine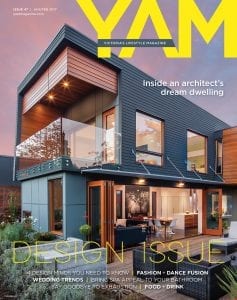 Circulation: 140,000+
Frequency: Bi-monthly
Contact: Lise Gyorkos & Georgina Camilleri dsmeltzer@pageonepublishing.ca
Address: 580 Ardersier Road
Victoria, BC V8Z 1C7
Phone: 250-595-7243
Fax: 250-595-1626
Email: info@pageonepublishing.ca
Website: www.yammagazine.com
YAM is Victoria's lifestyle magazine, artfully curated to celebrate the distinctive flavour and flair of Canada's west coast, where living on the edge has given rise to a unique culture shaped by the elements — and a lifestyle that blends earthy and elegant.
Reaching 140,000+ readers per issue, YAM focuses on life-enhancing experiences and inspiration in home design, culinary creativity, adventure travel, fashion influencers and more. With its superb writing, photography and design, YAM is a sought-after print and digital source for discovering the best of Victoria.
Read about YAM magazine's managing editor, Kerry Slavens here.
Other Lifestyle Magazines
BACK TO ALL MEMBERS