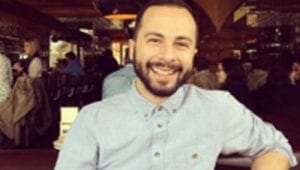 SO: What kind of educational background or life experiences led you to a career in publishing? 
DZ: I studied English Literature and Publishing at SFU, then went on to volunteer/work at Adbusters. Once I was working in Adbusters I really got into publishing and volunteering with magazines around Vancouver. I've always been in love with books, but I was more interested in magazines and what will become of them so that led me to where I am now.
SO: What do you love about publishing? 
DZ: I just genuinely love reading, and magazines provide the opportunities for new work to be out before they turn into books or movies. It's like the front lines of knowledge and literature.
SO: Do you have any advice for aspiring editors or those pursuing a career in publishing? 
DZ: Yes. Volunteer if you can. Offer your services to wherever you can in publishing. I basically just gave up all my free time to magazines and it turned into a job. I know some people don't have the financial stability to do this (I'm pro-paid internships), but if you can, get out there and do what you can. Find out how you can help. Usually younger editors are great at social media and the Internet, and that is always needed for magazines. Worry about finding the love of your life when you're thirty, fall in love with publishing when you're in your twenties. That is probably terrible advice, but any advice towards getting into publishing is bad advice.
SO: What are some of the challenges you face working as an editor and how do you overcome them? 
DZ: People constantly send me poems unsolicited or ask to be published or given special treatment. That is exhausting and boring to reply to. People also constantly want you to do things for them with no reciprocity, and for free. I've learned to kindly reply "no" to all of these things.
SO: Do you have any favourite magazines? What topics to you enjoy reading about the most? 
DZ: I really like Plenitude for queer literature. I also regularly check The Rusty Toque. I'm very interested in digital magazines that offer a space for literature.
SO: How do you envision the Internet and the digital era influencing the future of magazine publishing?  Do you find social media a useful promotional tool?
DZ: I can't speak for the entire field of magazines, but I know that Poetry Is Dead has been as successful as it is because of social media. Twitter and Facebook are where we gathered our large following, and it really helped us become a well-circulated print magazine. I am excited for the next wave of online magazines, it's interesting to see how people take literature and see what the Internet can and can't do for it. A lot of magazines I see failing at social media, I see failing in circulation and so it's not surprising when those magazines shut down.
SO: What would you like to see happen in the Canadian magazine industry? 
DZ: I'd love to see more online magazines. There are a lot of online magazines that are in the States that I really enjoy, and I think about how we can do that over here. I have one in mind, but I can't say anything about it because I think it will become my next project.
SO: Any inspirational quotes, anecdotes, words of wisdom? 
DZ: I remember when starting Poetry Is Dead, the web designer at the time said to me, and I'm paraphrasing, "everyone has plenty of great ideas, but it's actually creating those ideas that is the work that makes it happen. People rarely put in the work and only talk about their great ideas." Basically, no one is going to high-five you for your good ideas, you have to make them happen on your own, and it won't be easy. But go for it.
~~ Posted by Sadie Olchewski, Langara Library & Information Technology Student for MagsBC