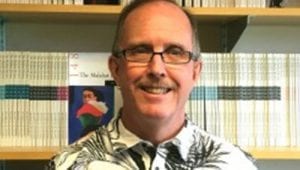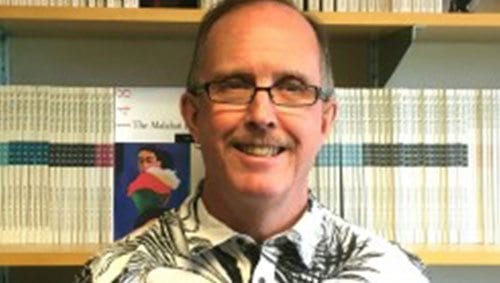 John applied to the position of editor at The Malahat Review because he wanted to move back to Western Canada.
"When I started in January 2004, it was a part-time position with a great deal of flexibility in choosing my work hours, which I had hoped would allow me more time for my own writing. Famous last words," he said.
John is a graduate of the University of Victoria's writing program and studied poetry with The Malahat Review's cofounder, Robin Skelton.
He later moved to Ottawa for 17 years, working as a librarian and in publishing at five national museums while co-editing Arc Poetry Magazine in his spare time.
Taking on the position at The Malahat Review has brought him back to UVic, into a bright office nestled in the corner of the Medieval Studies department.
A typical day at the office involves contending with masses of email, overseeing the development of the current issue in production, administering contests, planning circulation promotions and assigning work to staff.
During his time as editor, the creative nonfiction category was added to the journal and The Malahat Review began hosting the WordsThaw literary festival. The review has become active on Twitter, Facebook and Instagram.
The Malahat Review has grown and now circulates above 5,000 paid copies annually, which has allowed it to maintain Canadian Heritage funding. John said reaching that goal has made things busier, as the magazine now holds four annual writing contests instead of one. The literary journal celebrates its 50thanniversary next year with a focus on Victoria writers in Autumn 2017. However, the future remains uncertain because magazines are operating in a fiscally challenging environment.
"You can't expect circulation to remain stable without recruiting it constantly, so that's what I have set up The Malahat Review to do, in addition to publishing high quality literary fiction, poetry and creative nonfiction," he said.
Journal staff from left to right: circulation, marketing and social media manager Garth Martens, assistant editor Rhonda Batchelor and editor John Barton.
A chat with a First Nations writer brought ongoing changes at the literary journal into sharper focus.
John told the writer that people read to see themselves reflected back and learn something new about the world. The First Nations writer replied that he didn't see himself reflected whenever he picked up a copy of The Malahat Review.
As a result of that conversation, the Winter 2015 issue of the journal features First Nations art on the cover and includes work from two First Nations authors. The Winter 2016 issue of the journal will be titled "Indigenous Perspectives." It will focus on contemporary First Nations writing in Canada and bring in three First Nations guest editors to select the content. The review will focus on Indigenous writing as a theme for WordsThaw 2017.
John said the journal plans to investigate and address the appropriation of the journal's name, which is borrowed from the Malahat Nation on southeastern Vancouver Island. It was used without permission when the magazine was founded in 1967.
John has published 11 books of poetry and is currently editing an edition of selected poems by mid-twentieth-century modernist poet Douglas LePan. He also sits on the advisory boards of two Canadian literary magazines: Grain and Plenitude.
As an experienced writer, he enjoys helping authors fine-tune their work.
"I believe that our authors are the best authorities on their own work and I want them to be happy with the published results because how it reads will remain important to them long after I have moved on [to working with other authors]."
— By Melissa Shaw, Journalist and Summer Intern with MagsBC, May 2016.