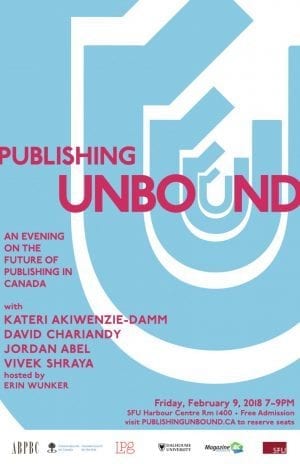 Publishing Unbound is a public reading and reception on inclusivity and accountability in Canadian magazine and book publishing. Featured authors include Vivek Shraya, David Chariandy, Jordan Abel, and Kateri Akiwenzie-Damm.
Co-organized by SFU Publishing, Dalhousie University, the Association of Book Publishers of BC, and the Magazine Association of BC, this free event at SFU Harbour Centre runs 7-9 p.m. on Friday February 9, and is open to all who register.
For more information, please visit the Publishing Unbound website. Registration will be up soon.
Our thanks to the Canada Council for the Arts and the Literary Press Group of Canada for their support.