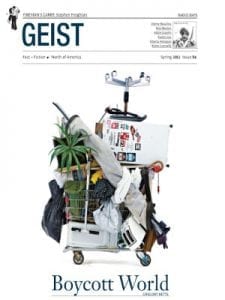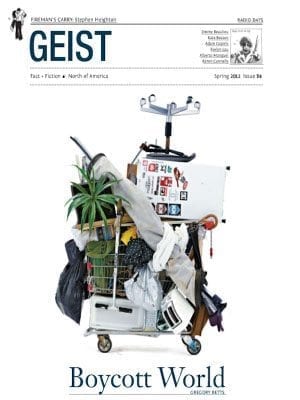 Overall Description
Geist is the Canadian literary magazine of ideas and culture. Geist's mandate is to find and encourage a wide audience for new and established Canadian writers and artists of merit. While working for Geist, the intern will become an integral part of the online marketing team in expanding readership, with particular responsibility for strategy and campaign building, marketing and writing copy. The intern will also be encouraged to contribute writing and will participate in editorial and marketing meetings.
Requirement and Assets
Post-secondary degree
Intermediate competency in HTML/CSS and Adobe Photoshop
Working knowledge of Twitter and Facebook (business marketing experience with either platform is an asset)
Ability to work independently and as part of a small creative team
Experience with Adobe InDesign, Adobe DreamWeaver, email marketing platforms and Google Analytics an asset, but not required
Strong writing and communication skills and willingness to learn
Understanding of basic tenets of marketing and media
Strong ability to organize and prioritize
Ability to carry out work requiring attention to detail
An interest in literature and cultural publishing
Eligibility
Canadian citizen, permanent resident, or refugee status in Canada (non-Canadians holding temporary work visas or awaiting permanent status are not eligible)
legally entitled to work in Canada
between 16 and 30 years of age at the start of employment
willing to commit to the full duration of the work assignment
will not have another full-time job (over 30 hours a week) while employed with the program
are an unemployed or underemployed college or university graduate, that is, not employed full-time
are a recent graduate who has graduated from college or university within the last 24 months at the start of employment
will not be receiving Employment Insurance (EI) benefits while employed with the program
have not previously participated in or been paid under this or any other Career Focus internship program funded under the Government of Canada's Youth Employment Strategy
Deliverables
Work with Publisher to create and schedule the newsletter
Work with Circulation Manager and Operations Manager to plan and execute online marketing campaigns
Track and analyze campaign results and newsletter metrics
Attend and contribute to online marketing meetings
Write copy for newsletter content and marketing emails
Contribute editorial input and writing to the Findings and Endnotes sections of Geist
Assist with developing online subscription offers
Write copy and schedule posts for social media platforms
Benefits
The Digital Publishing and Administrative Intern role will give the intern practical experience at Canada's largest literary magazine.
The intern will:
Have the opportunity to work with Geist founders Stephen Osborne and Mary Schendlinger, who have more than forty years each experience in the publishing industry.
Learn about the fundamental strategies of magazine's newsletter and online marketing campaigns, as well as hands-on experience in marketing activities.
Learn how to plan and execute the newsletter and marketing campaigns and track results using Whatcounts and Google analytics.
Participate in all stages of work and follow projects through from conception to publication.
Receive feedback from the publisher on his/her written work.
The position will provide insight into the structure and daily operations of non-profits in Canada, transferable to many organizations.
The intern is expected to leave with the experience and adaptable skills required to obtain an entry-level admin, editorial, marketing or digital publishing job in the publishing industry.
Time Commitment
Part-time, 30 hours/week
16 weeks from Aug to Nov 2018
Pay: $14/hour
To apply, send CV and cover letter to Jocelyn Kuang at jocelyn@geist.com by July 20, 2018.
Please note: only shortlisted candidates will be contacted.