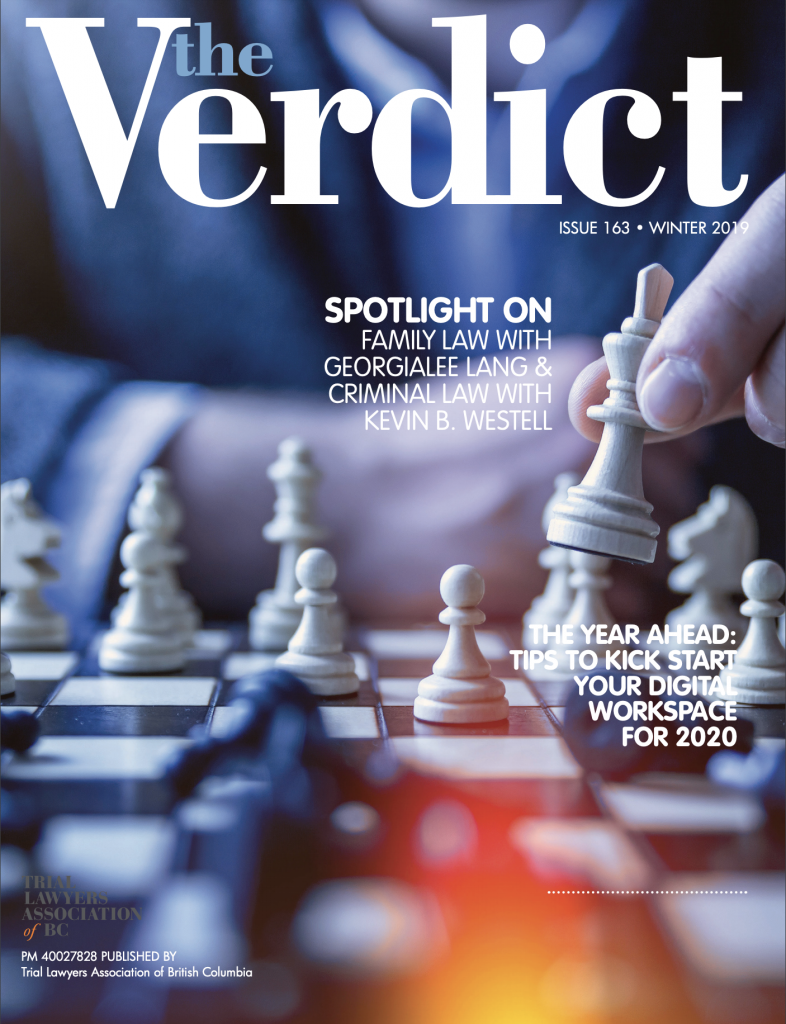 Trial Lawyers Association of British Columbia 
Job title: Publisher, the Verdict 
Reports to: CEO 
Are you an experienced editor, publisher or graphic designer interested in a more hands-on role? Are you a recent graduate from a digital and print publishing program who is looking to show off their talent? If so, you might be the perfect addition to the team at TLABC. 
Working with a volunteer Editorial Board made up of experienced lawyers, the Association is seeking the perfect candidate to lead its flagship quarterly publication, the Verdict. 
About Trial Lawyers Association of BC 
Founded in 1980, TLABC is a not‐for‐profit society with a proud history and a current voluntary membership base of 1,500+ legal professionals leading diverse practices throughout the province. Our members represent individuals rather than corporations, governments or other large entities. Practice areas include family, employment and immigration law, wills and estates, criminal defence and personal injury litigation. Members are united with the goals of protecting the rights of individuals, ensuring access to the courts, preserving the jury system and promoting the highest standards in legal education. 
Position Overview 
Reporting directly to the CEO, and working collaboratively with the Editorial Board, the Publisher is responsible for ensuring that TLABC's lead publication has relevant content, modern design, and advertising revenue to support its printing and distribution. The successful candidate thrives on rigid deadlines, juggling multiple tasks, working independently AND in a collaborative team environment, and in delivering results. 
Key Responsibilities 
Vision & Planning
Produce 4, eighty (occasionally plus) page magazines a year (spring, summer, fall & winter) 
Work with TLABC CEO to establish magazine budget and advertising sales targets 
Stay aware of on-going changes/trends in print and online publishing to ensure we are current and meeting our readers' needs 
Advertising Sales
Conduct ad sales for publication 
Prepare ad sales promotional materials such as media kits and mockups 
Set advertising sales and artwork deadlines for the upcoming year 
Seek, contact and track new potential advertisers 
Build and maintain relationships with past, current and future advertisers 
Write ad contracts 
Record ad sales/ maintain and update run sheet 
Design advertisements as needed 
Send tear sheet pages and thank you notes to advertisers 
Invoice all advertisers and follow up with advertisers to ensure that all invoices have been paid 
Editorial Management
Set editorial deadlines 
Continue to seek to improve the magazine's editorial content through the addition of new sections and features 
Meet with the Verdict editorial board at least 4 times a year to brainstorm, plan and curate editorial calendar, themes and Issue Leaders for the upcoming year 
Maintain contact with the editorial board throughout the year to discuss and generate feedback on issues as they arise such as unsolicited materials for publication etc. 
Send out reminder notices and maintain contact with Verdict contributors to ensure editorial deadlines are met 
Track all incoming editorial content including date of receipt, author, title, word count, editing dates etc. 
Send out thank you notes to Verdict contributors and editorial board members (each issue) 
Production
Set press and production deadlines for the upcoming year 
Collect quotes from current and alternate printers for consideration 
Select artwork for placement in the magazine 
Oversee and attend to the layout, appearance, design of magazine editorial and advertising content 
Check camera-ready artwork (ads) to ensure they are print-ready 
Proof magazine pages 
Create press-ready files 
Upload files to press 
Review and approve final files for print 
Distribution
Maintain magazine distribution list 
Email magazine distribution lists to the mailing house for distribution 
Send out additional Verdicts on the as-needed basis 
Send letter (from CEO) and copy of the magazine to all BC MLAs 
Online Content Management – the Verdict
Update "The Latest Issue" section of the www.tlabc.org each issue 
Update the Verdict archives section of the website each issue 
Update other sections of www.tlabc.org on the as-needed basis 
Update social media platforms with the Verdict specific information such as deadlines and new issue releases 
Online Content Management – TLABC Website
Update website as per staff needs 
Conduct ad sales for the TLABC website 
Qualifications Required 
Bachelor's degree in a related field (English, Publishing, Journalism, etc.) 
Graduate of graphic design or a comparable program in an accredited post-secondary institution 
Experience in a similar role 
Desired Skills and Attributes 
Skills
Editing
Print Media: Adobe Create Suite (InDesign, Illustrator, Photoshop, Acrobat)
Social Media: Twitter, Instagram, Pinterest, Facebook, Hootsuite
Web Media: Basic HTML & CSS, WordPress, Email marketing (Constant Contact)
Additional: MS Word, MS Excel, MS PowerPoint 
Attributes
Detail-oriented with solid technical skills and knowledge of print and industry practices and standards, from prepress to print production management
Deadline-driven with strong organizational and time management skills
Self-motivated with the ability to multi-task, problem-solve and prioritize in a dynamic environment
Ability to work independently and as a member of a team
Comfortable and confident leading a team, building relationships and conducting sales
Adept at working under pressure
Role and Compensation 
This is a full-time, permanent role. 
TLABC offers a professional work environment. Compensation and benefits will be commensurate with experience. 
How to Apply 
Please submit a resume and cover letter, both in a single PDF document, as soon as possible to (but no later than March 20, 2020) shawn@tlabc.org. Please rest assured that all applications are confidential. Enquiries are encouraged. 
We thank all applicants in advance and wish you all the best of luck in your search. And rest assured, we will keep all applicants apprised of their status in the review, screening and interview process.