This position has been filled.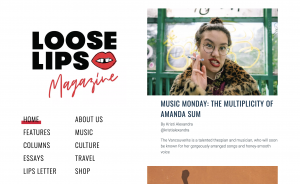 Loose Lips Magazine is seeking a part-time editorial assistant and junior social media coordinator. This is an entry-level position, ideal for someone who's looking for social media and publishing work experience.
Since 2015, Loose Lips Magazine has been an independently-funded online publication that is proud to cover local arts, culture, women's health, and current events.
As the editorial assistant and junior social media coordinator of Loose Lips Mag, you will play a functional role in carrying out communications and tasks on a weekly basis.
An ability to grasp the tone and voice of the magazine will be integral as you will represent the magazine online. You are a hard-working self-starter looking to gain experience in digital publishing and social media. You take direction well while possessing the ability to pitch unique and strategic ideas.
Interested applicants should have a proven interest in social media and publishing, and demonstrate a solid knowledge of feminism and social activism.
Experience with social media marketing, and programs, websites, and software such as Canva, WordPress, Slack and Shopify is an asset.
Responsibilities include:
Editorial Assistant Tasks
Uploading pieces to the Loose Lips Magazine WordPress site
Transcribing interviews
Assisting with Shopify orders, social media integration, and product promotion
Editorial help, including editing, fact-checking, contacting sources and more.
Junior Social Media Coordinator Tasks
Loose Lips Magazine social media calendar
Content creation for Loose Lips Magazine's social media channels
Loose Lips Magazine social media digital engagement
Conditions of work: Remote work (Vancouver preferred). This is a part-time, permanent remote-work position paying $400 monthly for 20 hours per month (approximately 5 hours per week) at $20 per hour, ideally starting mid-March, 2021.
To apply: Please send a cover letter, resume, and either personal social media handles or social media handles for managed accounts to hello@looselipsmedia.ca
Deadline: Friday, February 26, 2021 at noon
No tags for this post.