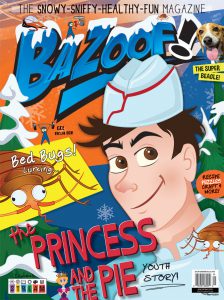 Who We Are
BAZOOF! is a children's content brand that is backed by a talented team of writers, illustrators, designers, video editors and more who have a passion for what they do and still have one foot in the world of being a kid.
BAZOOF! presently has a print publication that is distributed across Canada and the US to various homes, schools and libraries. It specializes in publishing children's work with a focus on healthy living and creativity and now includes features based on STREAM education.
In July of 2020, BAZOOF! was invited to partner with EduWin Academy, an online education program based out of Ottawa, Ontario. In June of 2021, BAZOOF! will be preparing to launch the first step in this partnership by offering digital versions of the publication to families in China learning English, and expanding from there.
Please visit our website at www.bazoof.com
Job Description – Graphic Designer Entry Level (Internship)
As an intern with BAZOOF!, you'd become an integral part of the creative team working as a graphic designer and illustrator (optional) for the various projects BAZOOF! produces which includes:
Print and digital magazine
Website projects
Marketing material for both print and web
Assist in design for videos and other online content
Design work will include refreshing pre-designed projects at various levels, as well as new ones. Common projects handled in the magazine include stories, games, puzzles, crafts, recipes, children's art, health, fitness and STREAM education, PLUS designing at least two covers for the magazine! Most of the projects are meant for 7-12 year-olds.
You'll also be part of the editing, proofing and all the stages of production leading up to the final publishing. The ability to illustrate would be an asset but is not required. Once you gain experience to design an integrated style meant for kids, you can design almost anything!
Assistance Received
As BAZOOF! is based in Vancouver, you'd be working alongside the editor who will guide you through all your projects. Style guides are provided along with examples from previously published work and library resources. We work as a team so assistance is provided on all sides of production to support you in your role.
Qualifications/Requirements
Interns must be enrolled in or recent graduate (within 3 years) of graphic design or a comparable program in an accredited post-secondary institution
Laptop computer with the licensed Adobe programs
Intermediate Level
Skilled in Adobe Photoshop, InDesign, and Illustrator
English language communication skills
Basic
Familiarity with using social media
Artistic, innovative and capable of grasping design that works and appeals to young readers
A keen interest in the brand's reader demographics of 7-12 years
An Asset
Company Location
The creative team for BAZOOF! work remotely from various places in Canada, but for the purposes of the practicum, we will be meeting at the Vancouver Public Library downtown once COVID restrictions ease up, otherwise remotely until then.
Deliverables
Writing and design for website homepage, blog, and other social media
Writing and design for BAZOOF! (print and digital) publications
Attending and contributing to editorial meetings
Responding to reader mail and comments
Evaluating youth submissions
Contributing to ideas, writing, design and production associated with video and podcasts
Fact-checking
Social media posts
Other tasks as assigned
Accountability
The intern will report to TeLeni Koochin, Managing Editor, and the mentor as assigned.
Benefits
This role will give the intern a full view of the editorial and design process for both a print and online publication, with the ability to contribute as is appropriate based on the individual. The intern is expected to leave with the knowledge required to obtain an entry-level job in the industry.
Time Commitment
This is a part-time (20 hours/week), 22-week position
Start date: April 1st, 2021
End date: Sept 10, 2021 (includes 1 week off in the summer)
Pay
$14.60 per/hour until May 31, 2021, then $15.20 per/hour June 1, 2021 and after.
How to Apply?
Application deadline: March 25, 2021
Please include the following:
Email subject line, e.g. posting title, full name, etc.
Cover letter
Resume
Sample of work
Contact information
Any questions? TeLeni Koochin / Publisher, BAZOOF! at Dream Wave Publishing Inc. mail@bazoof.com
No tags for this post.