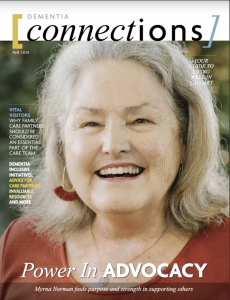 Dementia Connections magazine is seeking a part-time, commission-based ad sales rep.
Published in Alberta since 2017, and now located in BC, Dementia Connections is expanding to serve readers Canada-wide through our brand-new website and Summer 2021 issue.
We are looking for someone personable, reliable, professional, creative, with good follow-through and attention to detail. Experience and a robust network of contacts required. We publish four times a year.
The ad sales rep earns 25% commission on all paid print and digital advertising, payable within 30 days after invoice.
If you're interested in supplementing your income with flexible work-from-home hours, and in developing and nurturing relationships within the health services, dementia and wellness communities while growing our advertising base, send resumé to Dementia Connections at editor@DementiaConnections.ca before May 14, 2021.
No tags for this post.