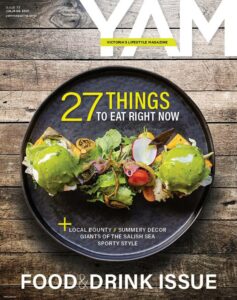 This position has been filled.
Page One Publishing is looking for an experienced and skilled lifestyle editor to join our team as the editor of YAM, our bi-monthly lifestyle magazine. The position reports directly to the publisher(s).
As the YAM editor you will be expected to have the creativity of a writer, the critical eye of an editor and the strategic focus and attention to detail to move the brand forward. We expect excellent organizational and leadership skills, as well as the ability to engage and collaborate with team members. You will be working in a hybrid office (in our Victoria-based office and from home) where the main focus is quality of work and meeting the scheduled deadlines.
Responsibilities:
Plan and manage all daily YAM editorial operations
Coordinate YAM editorial meetings
Ensure editorial budgets are met
Develop issue line-ups for print magazine and online
Collaborate with editorial team on issue content and topics
Plan and approve assignments for writers
Monitor schedules and ensure editorial deadlines are met
Write for YAM magazine and other publications where needed
Oversee editing of YAM, ensuring compliance with policies, style and tone and proofreading procedures
Oversee the editorial process through print, including organizing fact-checking, writing captions and display copy, proof-reading, and approving editorial changes
Resolve issues as they arise
Attend events on behalf of the company and the YAM brand
Do public speaking at events where necessary
Requirements:
Must reside in Greater Victoria
Proven experience as a lifestyle editor or relevant role
Exceptional ability in copywriting and editing
Proficiency in English
Working knowledge of WordPress and SEO concepts
Proficient with social media platforms
Strong planning and coordinating abilities
Excellent organizational and leadership skills
Outstanding communication skills, both written and verbal
Reliability and efficiency
Attention to detail
BSc/BA in journalism or relevant field
Interested applicants should also be able to demonstrate solid knowledge of, and active interest in, some or all of the following areas:
Home and garden
Fashion and style
Food
Shopping
Arts and culture
Health and fitness
Travel
$50,000 annually, hybrid work environment with a 4-day flexible work week.
Please send a cover letter, resume, and 3 samples of published work (pdfs) to
Note: Only successful applicants will be notified
About Page One
Page One Publishing is an energetic, forward-thinking publishing company established in 1998. Our company is well known as the publisher of several successful local magazine brands: YAM, Victoria's home and lifestyle magazine, Douglas, Victoria and Vancouver Island's business magazine, and Spruce, Victoria's Home and Design magazine.
Page One is also known for its strong commitment to community, hosting Douglas' Annual 10 to Watch Awards and YAM's Best Restaurant Awards, as well as sponsoring several charitable events each year.
No tags for this post.