Brandon is only nine years old, but his career plans are already set in stone—when he grows up, he wants to operate a heavy-duty rotator.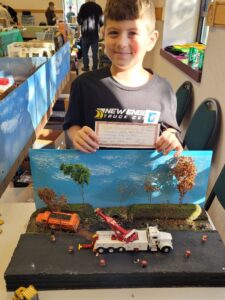 by Iva Kestrankova. Originally published in Tow Canada, January-February 2022
Even though Kevin Skinner's son Brandon still goes to elementary school, when asked about his future plans, he confidently answers that he wants to be a tow truck operator. One would think that his parents or grandparents have influenced his determination, but surprisingly, Brandon was not born into a towing family. Instead, his passion for tow trucks developed while watching Canadian TV shows Highway Thru Hell and Heavy Rescue: 401.
Despite his young age, Brandon's love for the towing and recovery industry can be traced to when he was only three or four years old, when Kevin found him playing with toy trucks in his bedroom with the lights off one evening.
"When I turned the lights on, I saw all his trucks flipped over, because there was a wreck," recalled Kevin. "He said he was working the night shift, cleaning up on the Coquihalla [highway in British Columbia]."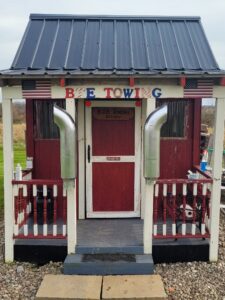 Years passed, and watching the Highway Thru Hell series on TV and playing with his toy trucks became not enough for Brandon. With his younger brother Tyler, they started dreaming about having their own clubhouse.
To fulfill his children's wish, Kevin, assisted by his father-in-law, built a kid's clubhouse made of pallets in the backyard. However, from the beginning, it was clear that this would not be a typical clubhouse. Knowing his oldest son's passion for tow trucks, Kevin came up with the idea of constructing a tow truck shop. And that is how "BTE Towing"—bearing the three brothers' initials: Brandon, Tyler, and Ethan—was born, in 2019. […]
Visit Tow Canada to read the full article!
Tow Canada tells the story of Canadian towing professionals, delivering educational content from industry experts and the latest industry news and information.