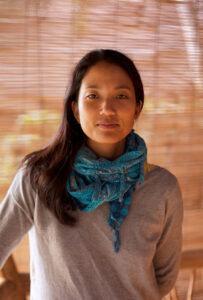 By Kimia Heydari, MagsBC design practicum student
April 19, 2022
Alice Cho's experience spans editorial, marketing, user experience, apparel, and branding. She has previously worked in New York and San Francisco, and now works as a freelance art director and designer on the traditional, ancestral and unceded territories of the Coast Salish People, the Qayqayt First Nation.
Kimia: How did you start your career and how has it grown?
Alice: I went to the Alberta College of Art & Design in Calgary. When I was in high school, I knew that I wanted to pursue graphic design. Back then my knowledge of what designers did came from snowboard magazines. I knew someone had to design those snowboard graphics and magazine layouts.
And of course, like any teenager, I loved listening to music, and back then CDs were the medium. I knew graphic designers had to design those CD liners. So, things like snowboarding and album covers got me excited about graphic design, and I ended up going to the Alberta College of Art & Design and graduating from their visual communications program.
My first job after finishing school was at a snowboard apparel company. I was thrilled to get that opportunity because I loved snowboarding. From there, I've been pretty open to trying different types of design in different areas. I haven't really specialized throughout my career, but that has afforded me opportunities in a lot of different areas, whether it's graphics for apparel, editorial design, interfaces for video games, or branding and identity work.
Looking back at how you started, is there something that you would have done that you didn't do, or something that you did that was unnecessary?
I am happy with the schooling I got at the Alberta College of Art & Design. But the tools for designers are more accessible now—it's a pretty democratized field. So, I don't think design education is necessary by any means to become a graphic designer. But, for myself, being straight out of high school, and not knowing a lot about design, I think a formal education in design was good for me. So, I don't think I'd do anything differently.
I haven't had too many regrets, and I've been pretty open to how my career has developed. I don't feel bad about anything that I've done or didn't do. I'm pretty content with where my career has gone. Of course, there are times where I feel like I could have been more ambitious in pursuing certain jobs or fields of interests, but I've gotten such a diverse range of experiences that I don't really feel like I've missed out on too much.
That's great. At first, I wanted to study biology, but I didn't really like it from the bottom of my heart. And I was always into art design and creating stuff. I'm happy that, when I came here [to Canada], I decided to study design.
That's funny that you mention biology. Thinking back, I do remember, when I was in high school, my parents' initial preference was for me to pursue something in the sciences, like pharmacy, or applied science, like engineering. So, there are other completely different careers that, if I never had to sleep or eat, I wish I could have pursued, and I would have enjoyed them. I wanted to get into marine biology at some point. But I have no real regrets, other than wishing that I had the time and the energy to do two totally separate careers. But good for you, that's great that you decided to pursue art.
Thank you. So, what type of clients do you work with normally?
Right now, I design marketing materials for a retail client and for a venture capital firm. I do some editorial work as well which I'm particularly passionate about. I mostly accept whatever projects come my way that work with my skills and interests, which is a really nice perk of working freelance: you get to work with a diverse range of clients.
What do you think about starting a design business right out of school? Or even a social media account to showcase one's work, e.g. on TikTok or Instagram?
It depends on your personality. If you're really ambitious and have a lot of initiative to start things on your own, I think that's great. For myself, straight out of school, I needed to work for an employer. I had no idea how things work, whether it comes to billing or working with vendors such as printers, or anyone in production. I didn't even know where to get things printed or produced or retouched, so having the support of an employer lets you get that experience. I wanted to get familiar with processes among experts and have mentors to guide me in my career.
That said, there are plenty of people who have been able to navigate setting up successful design practices straight out of school. If it's what you want to do, and you feel like you can drum up some clients right off the bat, go for it. And with social or any kind of online presence, your reach can be global. So, it's definitely possible.
What are some ways designers who have just graduated can build up a client base if they don't want to go into a full-time job?
A lot of nonprofits or charitable organizations might be working on a shoestring budget but have important causes that need a trained professional to reach their audiences. You could find organizations that you feel passionate about that might have limited budget and need the help and contribute your design skills to their cause. This might even be pro bono work, but some of them may have a small budget for marketing or communications. That might be an option to find real-world experience for a client that you believe in.
It is difficult to find clients if you don't have much of a portfolio. But you can build your portfolio with any project. There are no rules against including self-driven projects. I've gotten work doing that. If you've got a favourite product but you hate the packaging, repackage it, redesign it. On your website, make a note that it's self-directed, personal work, and give some background on it. That can be a great opportunity to build your portfolio with the type of work that you want to be doing.
This is another reason why I preferred to get a job straight out of school. I found it easier to generate work for my portfolio when working for an employer. It also gives you something on your resume to show that you can work with a team, with cross-functional partners, that you're a good communicator—these are all things that may be harder to prove when you're a sole proprietor. If you're working at a job that's not perfect for you, then in your spare time develop the kind of work that you want to be doing that you think would be a perfect fit.
What do you wish you'd known starting out that you know now?
You don't have to chase your perfect dream scenario with every job you apply for. These days, I think it's very common and acceptable for people to have a job for a couple of years and move on, especially as a designer starting out. When I first got out of school, I think the expectation was that you get a job, and you stay at that job for as long as you can. But having a certain number of years at a particular job isn't always the first thing employers look at these days, at least for design.
I think that almost any job will offer some kind of opportunity and experience, especially starting out, so don't be too choosy. Advocate for yourself to get a fair wage or salary and a healthy work environment, but don't be too picky about whether or not you're doing exactly what you wanted. You might be pleasantly surprised. It might not be the type of design you wanted to do, but then you start doing it and you realize, "Hey, I'm good at this," or "I really enjoy this (even though I didn't expect to)," or you make contacts in that industry. You don't have to nail the perfect job right off the bat so you can take your time working towards it.