Songwriter Sasami Ashworth is indulging the monster within on her multidimensional sophomore album, Squeeze.
By Fraser Hamilton for RANGE, February 22, 2022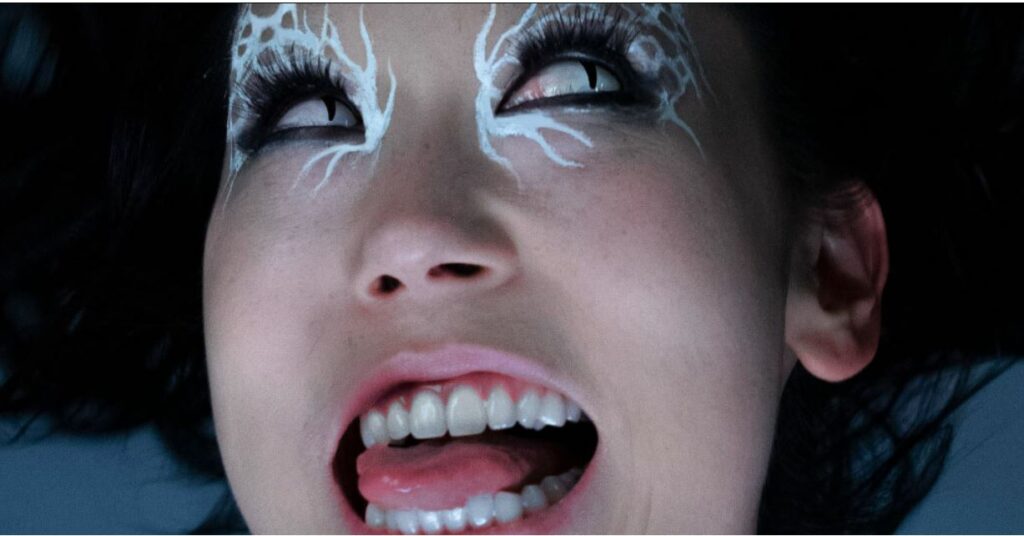 Sasami Ashworth, aka SASAMI, just wants you to let it all out when you hear her new music.
As someone who isn't afraid to address lyrical topics like facing systemic violence or confronting the inner turmoils of her own relationships, Ashworth knows there's a lot of complicated emotions ricocheting off the walls of our collective consciousness and has provided an appropriately cathartic soundscape through SASAMI. "I think there's something to be said about using art, music, or even food, to help lift you up and out of these dark, oppressive times," she explains over the phone from Los Angeles. "I wanted to create a soundtrack where people could feel their pain and live out some of their more aggressive fantasies through the music."
Squeeze is Ashworth's latest collection of songs that explore the singer's wide spectrum of moods; a wonderfully nasty piece of work with genres that range from hardcore nu-metal to sunny early 2000s pop-rock. Depending on where you are in the tracklisting, it can be similar to either Sheryl Crow or System of a Down. Ashworth credits her diverse musical inspirations to her mixed heritage. "I was raised by a Korean mom and a Caucasian-American dad who used to make me mix CDs with Dire Straits and Fleetwood Mac on it," Ashworth recalls. "70s folk rock is in my roots for sure."
Previously having been a part of the rock band Cherry Glazerr before pursuing a solo career, SASAMI's first self-titled record in 2019 was more autobiographical, introspective, and laid-back in terms of sound. With Squeeze, those reflective thoughts are turned outwards in new and exciting ways as Ashworth turns up the volume while leaning into heavier sounds and horror imagery.
It's not just the music that's striking. The unforgettable album art was designed by renowned visual artist Andrew Thomas Huang, who recently received a Grammy Award nomination for directing FKA Twigs' show-stopping "Cellophane" video,  and features Ashworth as a Japanese spirit called the Nure-onna – which essentially looks like a snake with the head of the girl from The Ring. Learning about it while researching her family's Korean and Japanese history and culture, Ashworth was fascinated by the creature's bloodthirsty image while putting the record together, and the tales about a feminine, vampiric folk deity who drinks the blood of its male victims became a point of inspiration for the incendiary truth-bombs and general frustrations that Ashworth works through over the course of the album.
Watch a SASAMI video and continue reading here.
RANGE is a music and lifestyle focused digital magazine dedicated to amplifying emerging voices in music, art, and culture.