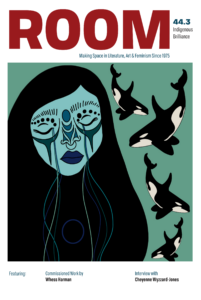 Room is Canada's oldest feminist literary journal, and has published fiction, poetry, creative nonfiction, art, interviews, and book reviews for forty years. Published quarterly by the West Coast Feminist Literary Magazine Society, also known as the Growing Room Collective, Room showcases writing and art by people of all marginalized genders, including cis and trans women, trans men, nonbinary and two spirit people. We believe in publishing emerging writers alongside established authors, and because of this, approximately 90% of the work we publish comes from unsolicited submissions or contest entries.
Works that originally appeared in Room have been anthologized in The Journey Prize Anthology, Best Canadian Poetry, Best Canadian Stories, and Best Canadian Essays, and have been nominated for National Magazine Awards.
Room is searching for an intern to support the Marketing and Contests Coordinator in designing and executing an improved marketing plan for the magazine. This position is fully remote, with optional opportunities to meet the team, work from the office, or attend events for applicants in Vancouver. The intern will work closely with the Marketing and Contests Coordinator on this project and will have some freedom to discuss areas of focus and particular interest to them. The intern may be responsible for:
Assisting with market research to prepare for new developments in Room's marketing plan
Interfacing directly with staff and contributors to coordinate web content
Assisting with the research, development, and launch of a line of merchandise
Assisting with management of advertising sales
Creating and sharing posts on Room's social media accounts
Assisting with the creation of new marketing strategies and with content for new campaigns
Assisting with marketing for upcoming fundraising push for the Indigenous Brilliance and Art Ecosystem projects
The applicant will also have the opportunity to network with and learn from Growing Room Collective members, participate in Room special projects, and connect with the Managing Editor and Publisher to learn about other aspects of magazine production. The intern will be mentored by Managing Editor Shristi Uprety or Publisher Nara Monteiro depending on their career goals and industry interests.
We're looking for an applicant who:
Demonstrates a strong commitment to anti-oppressive practices in publishing, which adheres to Room's mandate (required)
Shows strong communication, organizational, and time management skills
Has experience with social media marketing
Has experience with and/or education in the basic principles of marketing and/or publicity
Experience with magazine publishing or book publishing is an asset
Experience with merchandise is an asset
Applicants must be enrolled in or a recent graduate (within 3 years) of a program in an accredited post-secondary institution related to the job. Interns will be paid $17.50/hour for 20 hours/week for 16 weeks (September to December 2022), plus 12% in lieu of benefits and paid Statutory Holidays.
This position is open to women (cis and trans), trans men, Two Spirit, and nonbinary folks. BIPOC applicants will be prioritized.
Please forward your resume and cover letter to the current publisher, Nara Monteiro, at publisher@roommagazine.com by August 31, 2022.
This internship is generously funded by MagsBC.