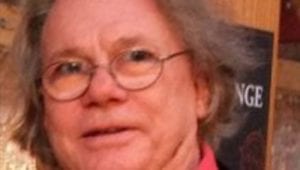 Richard Olafson said before he began his career in publishing, he was a street kid who came to Victoria from North Battleford, Saskatchewan.
"I was almost homeless in Victoria but I decided instead that I would publish my first book of poems, which I did. I hand-sewed them all together, printed up 750 copies and I started publishing one book after another."
The inspiration for The Pacific Rim Review of Books came from an essay he read in his youth by Kenneth Rexroth discussing Seattle painter Morris Graves.
"He [Rexroth] discussed the integrated consciousness that is typical of the Pacific Coast, the West Coast. He was speaking of the U.S. as opposed to the more fragmented consciousness of the East Coast."
Rexroth, he added, perceived a more holistic approach to life within the entire Pacific region, influenced by Chinese and Japanese philosophy. Richard pointed out that most writers in Eastern Canada live in urban areas but writers on the West Coast are surrounded by nature and therefore have a different approach to their work.
After a modest start, he picked up momentum, publishing 450 books in 30 years. Ten years ago, his international editor Trevor pushed him to pursue his idea of starting a book review.
"I didn't go by the traditional route. I started very simply and just kept working at it. I didn't stop."
The Pacific Rim Review of Books, or PRRB for short, is celebrating its tenth anniversary this year and Olafson said they've been moving forward "sporadically."
"We don't always meet our deadlines," he chuckles.
The writers and writing have improved over the years but the PRRB's serious approach to literature has not changed.
"We provide a place for the long-form essay which is a more serious study of a book. They're not short reviews; some of them are 2,500 words and up," he said.
The PRRB reviews books from around the world and has writers based in Los Angeles and New York.
They review older titles and in the case of established authors, reviewers will often write about their entire body of past work.
When asked about circulation, Richard said a book review journal is a hard sell, but the PRRB is one of the only stand-alone book review journals left in Canada.
"There's not much left [that's published] in Canada anymore. The Globe and Mail book review journal has pretty much disappeared, they don't review books anymore, not current books and certainly not poetry. We like to review a lot of poetry."
He publishes about 32 books a year including poetry, translations and fiction through his publishing house, Ekstasis Editions, but said they try to limit reviews of books they publish in the magazine. The publishing house and the magazine employ separate staff members and contributing editors.
"The discourse on literature has really declined in this country, there's a lot of people writing books but not very many people talking about them or reading them. The Pacific Rim Review of Books is intended to remedy that situation."
— By Melissa Shaw, Journalist and Summer Intern with MagsBC, May 2016.