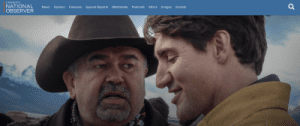 THIS POSITION HAS BEEN FILLED.
Help shape the future of the National Observer in Canada. We're leveraging the tools of today to shape the journalism of tomorrow. Join one of Canada's leading teams of talented business and journalism professionals and help us engage more meaningfully with a wider, more diverse audience. We are a B corporation and put a premium on social impact, sustainability and public service journalism.
The position
As Digital Advertising Coordinator, you'll have the unique position of providing a marketing plan and foundational support for public service reporting in Canada. Through your efforts, urgent investigations, daily news, and in-depth features will connect with those who care deeply about these stories. Join National Observer's growing marketing team in a role which is pivotal. Through the creation of graphics, text and the placement of digital ads on Facebook, Google and other internet platforms, your skill and expertise will help National Observer achieve its goal of becoming the best media organization for Canada.
Requirements
Brilliant with visuals and graphic design.
Good writer with a clear voice. Witty, insightful. Immersed in Canadian and U.S. news. Values quality and accuracy.
Successful track record in growing acquisition and building revenue through placing Facebook, Google and other online ads.
Open to flexible hours in order to be available to respond to breaking news through ad placement.
Self-motivated, high achiever, detail-oriented and yet also creative.
Vancouver-based.
The Job:
You will be designing ads, writing copy and placing ad content on Facebook, Google and Twitter.
You will be responsible for providing reports and analytics on ad performance weekly.
You will create a strong, consistent, engaging voice for National Observer's Twitter, Instagram and Facebook pages; managing platforms and posts to build audience, engagement and subscribers.
You will stay up on what's being published on National Observer as well as the latest news and trends in other media and social media in National Observer's focus areas.
You will be on tight deadlines and expected to thrive in a fast-paced environment.
You will work with the CEO to achieve the company's goals.
Canada's National Observer is an independent online newspaper launched in 2015. Its aim is to be fully reader-funded by 2020, and the successful applicant will be key to making this possible.
This position starts with a 4-month contract for 20 hours a week of your time. Payment will range between $30 and $40 per hour, depending on your experience and expertise. Applicants must be based in Vancouver to work in our Gastown office.
Apply with resume and cover letter explaining why you want to work for National Observer. Email to Janel Johnson, janel@nationalobserver.com.
We thank you for your interest in this position but will be responding exclusively to those who we plan to interview. Open until this position is filled.
---
Observer Media Group is one of Canada's top digital publications. Since 2009, the company has been at the cutting edge of innovation. It has been changing history through investigative and solutions reporting, giving audiences the information they need to improve communities and protect democracy.
Our inspired, talented and ambitious team produces journalism that reveals, informs, engages and empowers people to build the future they want. We're growing and looking for the top talent in Canada to join us.