Vancouver Art Gallery, Vancouver BC – To May 1, 2022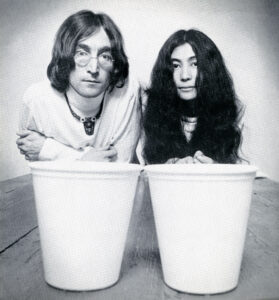 By Michael Turner
Time has been kind to Yoko Ono. Once reviled by boomer-era Beatles fans as the cause of the band's breakup, Ono is recognized today as one of the world's most visible and beloved artists, a minimalist peace believer who promotes world-saving causes while returning younger generations to the relational free play of the 1960s Fluxus movement, of which she was a member. In this exhibition, organized by the PHI Foundation for Contemporary Art, bygone-era Beatles fans will have ample opportunity to see not what Yoko did to the Beatles, but what Yoko and John did for peace.
Organized in two parts, the exhibition first focuses on Ono's boundary-breaking instructional works, where the viewer is invited to participate in the completion of her art. Included here are MEND PIECE (1966), in which viewers are invited to repair a piece of broken china, and more recently MY MOMMY IS BEAUTIFUL (1997), where viewers write their feelings toward their mothers onto sticky notes and attach them to the gallery wall. Also in this section are two works (ARISING, 2013, and WATER EVENT, 1971) that solicit participation outside the institution and feature local Indigenous artists.
The second part of the exhibition features the participation of Ono's late husband, John Lennon (1940-1980). Included here is the couple's 1969 WAR IS OVER (if you want it) peace campaign and the audacious (by 1960s standards) BED-INS FOR PEACE (1969), which had the couple engaging with not only media and celebrities inside hotel rooms in Amsterdam and Montreal, but with fans too. Most notable here is the space given to some of those lesser-known visitors who have consented to share stories of what for many of them was a life-changing event.