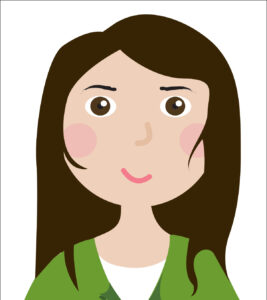 — By Alice Watkin, intern, for the Magazine Association of BC, November 17, 2022.
TeLeni Koochin trained in theatre arts education and began her career in teaching before branching into the magazine industry. After gaining experience as a writer for a health publication, she now runs her own title, BAZOOF!, to inspire and educate young readers.
How did you get started in the magazine industry?
For me it was all unplanned. I have a degree in theatre arts education, and I taught theatre at a high school level. I also had a minor in health education, and so started to work as a writer for a health magazine. I got to know the editor well, and that opened my mind to the industry. I was also raising my kids at the time, which is how I came up with the idea for a children's magazine. I loved all the creativity that can come from working with kids.
What does a typical day look like for you at BAZOOF! magazine?
It changes a lot. Since COVID, we're working much better online and our communication has tightened considerably. We now work more closely and efficiently. Day-to-day I connect with my team members, illustrators, graphic designers, writers, and video editor. We have a big team; it's expanded wonderfully. Whatever projects we're working on, I'm the one bringing all the pieces together; this includes choosing what goes in the magazine, deciding who I need and putting it all together.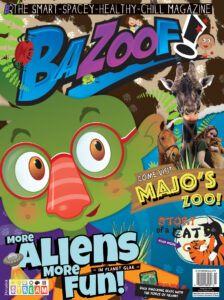 BAZOOF! aims to spark creativity in young readers by giving them the opportunity to be published. Do you think it's this focus on creativity that brings readers, and parents, back for every issue?
Absolutely. It brings in new readers, too. Lots of submissions come from kids who aren't subscribers because they're coming from classrooms and completing assignments to get their work published. The opportunity to be published is a big draw. We mostly get submissions from Canada and the US, but from across the world too. We had one from the UK, where a grandfather was submitting work for his grandson – he said there are not a lot of opportunities for kids to be published, so he searched and found us.
You also focus on 'preparing young minds for the future'. How do you think a subscription to BAZOOF! benefits young readers long-term?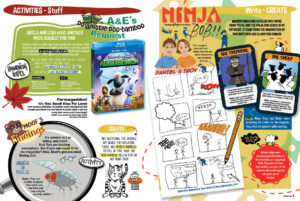 I think by encouraging kids to write, read and explore their creativity. Exploring these abilities will help them in any career they pursue. Being published also gives them confidence – getting recognition is huge for kids and parents. We also include science-based sections for education on health as well.
And finally, what advice can you give to people pursuing a career in this industry?
The industry is very tough right now, but there are also many opportunities. First, spend some years working to support the titles that are already out there before thinking about starting your own.
---
Learn more about BAZOOF! here: Member page | Website | Facebook | Twitter | Instagram