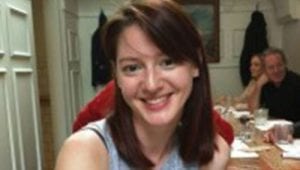 SO: What kind of educational background or life experiences led you to a career in publishing?
MR: SAD Mag is actually a passion project and side gig; my full-time job is not in publishing. I got involved in the magazine in 2009 after doing some freelance writing, and working as a student blogger in university, and gradually I got more involved in the editorial side. There are many people involved in the magazine with more traditional publishing and journalism backgrounds, and I think the diversity of our educational and occupational experiences makes us a fantastic team.
SO: What do you love about publishing? 
MR: Everything! Making a magazine is such a wonderful collaboration: each issue is the product of so many individuals' talents and ideas: writers, photographers, illustrators, designers, the artists and creatives who we profile. I'm a creature of the digital age as much as any other Millennial, but making a physical product like a magazine that people can hold and flip through and exchange with one another is very special. The very best part is holding each issue for the first time after it's printed.
SO: Do you have any advice for aspiring editors or those pursuing a career in publishing?
MR: Reach out to small magazines! We love talking to other editors and publishers, and I think we have a lot to offer people who are just getting started. Also if you're planning to do a graduate or professional program, talk to alumni about their experiences (this applies to any career).
As someone who makes their living from something other than publishing: be realistic about your career prospects. Publishing is a tough field to break into, and there are fewer full-time staff positions than ever, so think carefully about what you need to be happy with your career, both financially and creatively. Read Emily Gould's essay "How Much My Novel Cost Me" and think about it for a while.
Also, tailor your communications. If you want to work for a particular publication, get to know it first: read it, learn it, pitch it. We get a lot of generic applications or letters of interest from aspiring editors or publishing graduates, and it shows when they haven't read the magazine before and don't really know who we are.
SO: What are some of the challenges you face working as an editor and how do you overcome them?
MR: Editing is full of challenges; sculpting pieces is an art form, and it's always delicate work to preserve the author's voice and style. It's part intuition and part skill. Fortunately, I work with a whole editorial team — currently, Sara Harowitz, Kyla Jamieson, Jackie Hoffart. and Kristin Ramsey — so there's always someone to provide an informed opinion or do a second read. Writing makes you a better editor, and editing makes you a better writer, so I'd recommend everyone do both.
SO: Do you have any favourite magazines? What topics do you enjoy reading about the most? 
MR: I have so many: in Vancouver, I love Megaphone, Geist, Ricepaper, and Poetry is Dead. Highway is a very cool new local publication that I'd encourage everyone to check out. Elsewhere in Canada, Maisonneuve is a wonderful magazine with incredible writing. Whenever I'm traveling I try to buy a local publication; I was just in Montreal and picked up two new beautiful art magazines: Spiffy Moves, andWeijia. Finally, our associate editor Kyla Jamieson just loaned me some copies of Apartamento and The Believer, which I'm enjoying.
SO: How do you envision the Internet and the digital era influencing the future of magazine publishing?  Do you find social media a useful promotional tool? 
MR: Oh definitely. As a magazine, your community is your readership and your contributors, and social media is a very necessary way to communicate with them. Especially as a print quarterly, we have long periods where we are just working on the next issue punctuated by frenzies of new-issue activity; social media lets us keep in touch with our audience throughout the process, so that we don't lose them between issues.
SO: What would you like to see happen in the Canadian magazine industry? 
MR: More support for print magazines! I think that many people think digital publications are just the next evolutionary step of print magazines, but they are totally different art forms that offer distinct experiences and value to readers. The layout of a page, the feel of the paper: these things can't be replicated online.
SO: Any inspirational quotes, funny stories, anecdotes, words of wisdom? 
MR: Work on projects you really love and that you really believe in; it's the only way to make something of value. Be professional, even if you are writing for free; you're not just building a portfolio, but also a professional reputation. Get off your computer and go to events where you can have real-life conversations with people in the publishing industry: poetry readings, issue release parties, book launches. Introduce yourself, say hello, tell them what you're interested in, follow up if you would like to work with them. Vancouver has tons of wonderful, free, accessible literary events filled with people who want to meet you.
~~posted by Sadie Olchewski, Langara Library and Information Technology student on behalf of MagsBC.