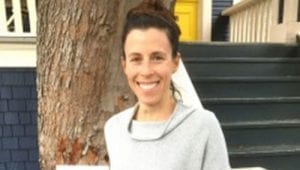 Jody Carrow immersed herself in the local writing scene, attending open mic events and readings when she was a student at the University of Victoria.
After graduating from UVic's Creative Writing Program, Jody was approached by one of The Claremont Review's founders, Susan Stenson. Stenson asked her if she would be interested in taking over the publication and forming her own team. Jody immediately said yes and became the magazine's editor-in-chief.
The Claremont Review publishes poetry, short stories, short plays, graphic art, photography, and interviews from youth between the ages of 13 and 19. Jody enjoys reading enthusiastic emails from newly published teen writers and writing rejection letters because it allows her to give the writer detailed feedback. Sometimes the writer will resubmit and their writing will have improved enough that it will be accepted for publication.
She admits that working with youth has its challenges. Despite being adept users of technology, young writers are often "shockingly slow" to respond.
The Claremont Review has about 650 to 700 annual subscribers that are primarily based in the U.S. and Canada although Jody said they have begun shipping more issues internationally.
The magazine is edited by volunteers, who take on a great amount of work during the journal's busiest period, from January to April. During those first few months of the year, the editors finalize and copy edit selections for the spring issue, write their Canada Council grant application, run the annual contest and compile a shortlist for the judges.
Jody said she loves the conversations she has with the journal's editors Shannon Horlor, Erin Renwick, Leah Baade and Emily Henderson during their meetings.
"I also love giving workshops at local high schools and doing outreach. Meeting young writers in person and being able to talk to them about their craft and the craft of writing is very dynamic and rewarding."
The Claremont Review has seen significant changes over the years. Artwork within the journal's pages is now printed in colour, the number of international submissions has increased and they have doubled the prize money for their annual contest.
Jody sees a promising future for the review. The staff are receiving more submissions each year and are considering the creation of a third annual issue to keep up with the interest and quality of the submissions. They are also discussing the addition of an annual digital issue that would be published on their website.
"This expansion, if it happens, will have to be done carefully so as not to tax our volunteers or compromise the quality of the magazine. It really would be a whole other level and I think would require a lot more funding," Jody said. 
She explains that the most common themes youth write about are the universal themes of love, loss, death, sex, belonging, relationships, purpose and identity. After four years as the journal's editor-in-chief, Jody said she is still awed and humbled by the writers they have the privilege of reading and publishing. She said the youth offer fresh perspectives, display wisdom, maturity and write with a level of courage that is off the charts.
"If you want to know the future, pay attention to what youth are doing in their art, what they are trying to tell you or show you about the human condition and what is possible for humanity."
— By Melissa Shaw, Journalist and Summer Intern with MagsBC, June 2016.