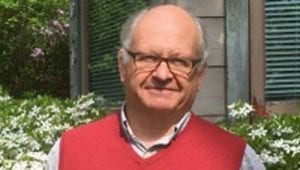 Peter Chettleburgh loves the creative aspect of publishing and enjoys producing news because it allows him to "be nosy".
"I like that. I'm naturally inquisitive and think that's something all reporters and journalists like. It gives you a license to ask questions."
After graduating from the University of Victoria, Peter worked as a staff writer and associate editor at Pacific Yachting Magazine for three years and then freelanced for an additional four years.
As part of his freelance work, he edited a commercial fishing magazine, which eventually went out of business.
At about the same time, the Aquaculture Association of Canada was looking for someone to take over its bilingual bulletin, Canadian Aquaculture, and Peter jumped at the opportunity.
The magazine launched during a period of initial growth within the aquaculture industry and was well received.
"We had a lot of luck because I didn't have any money to start with. We sold a herd of seven cattle to pay for the first print bill," he added.
The good times didn't last. The aquaculture industry crashed in 1990 owing to an oversupply of salmon and the magazine went through a few bad years. Once the industry rebounded, Peter started a second magazine called Hatchery International, which is now distributed in about 65 countries.
Around the same time, Canadian Aquaculture changed its format to a tabloid newspaper, adjusted its publishing schedule from monthly to bi-monthly and expanded stateside, changing its name to Aquaculture North America in 2008. Now three publications fall under Peter's company, Capamara Communications, including Crane & Hoist Canada, Aquaculture North America and Hatchery International. 
Jeremy Thain manages sales and marketing for the company, Debbi Moyen is the firm's bookkeeper and Dierdre Chettleburgh manages circulation for Capamara Communications.
Peter is also a partner in another publishing company, Southern Tip Publishing, which produces three trade magazines that are distributed in Canada and the United States.
Left to right: Capamara Communications staff: Jeremy Thain, Dierdre Chettleburgh Debbi Moyen and Peter Chettleburgh
Digital competition has yet to significantly affect Peter's publications, which are read by fish farmers, hatchery managers, investors, and researchers. Most of their audience is older and is accustomed to print but Capamara Communications has begun adding content from print issues to their websites and sending out an e-newsletter.
The company works with freelance writers from all over the world and they have one staff member, James Lewis, a Newfoundland-based graphic designer. Peter said technological advancements have made publishing easier.
"The downside is it's made it easier for everybody. It's easier entry now for publishers and so there can be more competition. There are now a lot of aquaculture websites and e-newsletters, which compete."
Despite the challenges, Peter said he finds the work rewarding.
"I find [aquaculture to be] a fascinating business. It's full of innovators; it's controversial, it's got a lot of edge so there's plenty to write about."
— By Melissa Shaw, Journalist and Summer Intern with MagsBC, May 2016.