---
Bears and humans have been coexisting for tens of thousands of years in Wuikinuxv territory.
What can this relationship teach us about stewardship and biodiversity?
By Odette Auger
September 16, 2021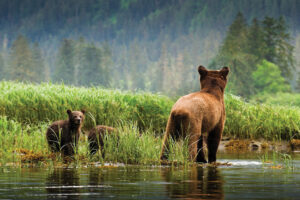 Jenn Walkus is a Wuikinuxv scientist, well respected by her neighbouring nations for her key work in ending the grizzly trophy hunt in 2017. She says, "My auntie Evelyn was the matriarch in my family, and she always said the bears teach us what to eat. They taught us a lot of things about coexisting in our territory."
Research on food security for both humans and grizzly bears is guided by the Wuikinuxv Nation's principle of ńàńakila – to watch over someone and look ahead for them; to be a guardian or a protector.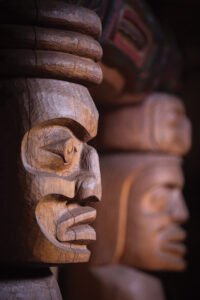 "We don't let the fact that the bears live here impede our life. They were here before we were, so we just found a way to coexist with them." Walkus applies ńàńakila in this case by being "very interested in making sure that bears are as well taken care of as we are."
It seems bears share Walkus' views on coexistence. Mother bears will bring their cubs closer to the village, knowing the males, who are aggressive towards them, will not draw too near. When the cubs become young adults, they move away from the village and search to carve out their own territories.
Food scarcity impacts
Bears traditionally thrived in this area, which once saw 3,115,000 sockeye annually. However, since colonization this has declined to 200,000 fish. This lack impacts bears' behavior, putting both humans and bears in danger. […]
To read the full article, please visit Watershed Sentinel.
Featured image photo: ©Steve Woods.
From Watershed Sentinel October-November 2021 – The People's COP