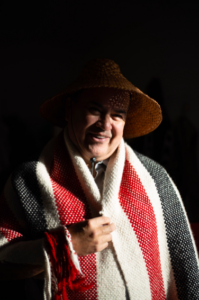 Saysutshun stories told by Dave Spirit Wolf Bodaly
FOLKLIFE Volume 3 2021
"I know your spirit," his auntie said to him. "And I know you won't let these stories die."
Dave Spirit Wolf Bodaly is a Snuneymuxw First Nations knowledge keeper who carries the Saysutshun Island stories with the language from the past to inform our understanding today.
"When an elder passes away, it becomes our responsibility to keep their teachings and protocols alive," he says. "I've always been a storyteller. The stories are within our DNA."
Dave is the cultural tour guide of Saysutshun. He has made a commitment to holding and sharing stories of his ancestral land and its people, keeping knowledge of animals, plants, medicines, and ecosystems alive. He weaves language and cedar strips into stories, hats, and bracelets that bring the history of this land into the awareness of all who live here.
He dedicates this part of his work to the history and heritage of Saysutshun (the Hul'q'umi'num word for 'training ground for running'). Saysutshun (Newcastle Island) has been a fitness and healing place for the Snuneymuxw for more than 10,000 years.
The stories are within our DNA.
Dave's voice is a transmitter, carrying Saysutshun cultural traditions and mythologies across time, with his big smile and open-heart inviting listeners in to hear and observe.
This is the land where the purple Camas grow…
This is the land where seven white saltwater raccoons dwell…
This is the land whose spiritual portals are gathering places to connect and heal…
The following stories of Saysutshun are carried forward by Dave, gifted to you, as readers, and visitors to the area. They belong to Snuneymuxw First Nations and should be acknowledged as thus. It is encouraged not to reshare in your own version, for that can take away from the sacredness and the connection to our land and culture. "For our eyes only," Dave says.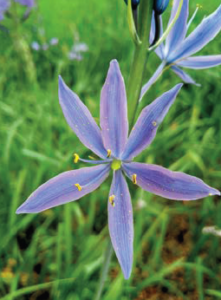 The Flower that Feeds the People
Within Saysutshun, there's a captivating grove of Garry oaks, beneath which grow scattered beds of Camas flowers—a purple rainbow of a plant. These can't be missed when in bloom. They decorate the moist grassy areas, waving, sprawled, in the wind. They thrive here, sheltered partly underneath a 400-year-old oak whose twisted branches reach out into the beckoning ocean. While underground, the roots of the Camas flower lead to a mid-summer food staple that has been sacred to the Coast Salish peoples for thousands of years: the Camas bulb. It's similar to a potato—perhaps with a bit more gumminess in flavour—and the starch is a perfect balance for a diet rich in seafood.
Throughout time, specific families have cared for the Camas bulbs, harvesting, drying, crushing, and packaging the flour as an important commodity and local trade item, either trading for other valued goods, such as cedar baskets and dried halibut, or celebrating them as a nutritious addition to a great dinner—pit-roasted, dried, and pounded into flour to make Camas bread.
Now, visitors stroll past these cheery purple flowers, brushing hands over them in spring, or taking refuge there under the Garry oaks, perhaps unaware of the food source and survival stories that lie beneath their feet.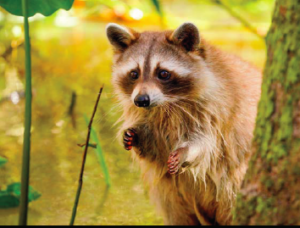 How the Saysutshun Raccoon Came to be White
A lucky person roaming Saysutshun or kayaking around it may spot something very rare: one of approximately seven white saltwater raccoons.
Thousands of years ago, as the island's animals gathered for their annual feast, each contributed its food of choice—clams, berries, halibut, and more. One year, the raccoon, otter, and cormorant hatched a plan to steal the coveted halibut, as there was never enough to go around. But the Transformer—who came in the shape of an eagle—caught them in the act, and duly administered a punishment to each. The cormorant, having tried to hide the theft under his wings, was made to spread them wide open whenever they became wet. The otter, formerly a scout of the land, was turned into a scout of the sea that could, as before, still breathe only above water.
Seeing these transforming punishments come to pass, the raccoon became so afraid that it turned white from fear. The eagle then announced that this raccoon would remain white forever, banned to Saysutshun. It's said that one in ten Saysutshun raccoons are born white. The white raccoon is called puk hul hul less, and this is the only place in the world that they are found in such numbers.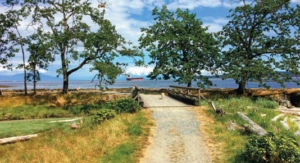 Spaces that Renew our Spirits
There are two sacred areas that are readily known on Saysutshun—spiritual places used for connection and healing. It is essential to move counter-clockwise when walking the island's eight-kilometre loop, going against time and renewing spirits, especially when a loved one has died, or when the people are sad. Once the circuit is complete, it's again possible to carry on, to move forward.
At one of the spirit portals—yu'thuy'thut (pronounced yai thuy thut) the people come together to throw flowers into the ocean—each flower holding the energy and memory of a loved one. The carnations are infused with this energy before being taken and placed on a towel with care.
To the steady beat of ceremonial drums and sacred singing, the ends of the towel are taken up and it is swung high into the air, arcing into the Pacific Ocean, releasing the people's energy and sadness. It is a time and place to let go of tears.
---
The caretaker and his family are the only permanent residents on Saysutshun. Seasonal visitors do come and go, to walk the trails, camp, and explore this culturally significant island.
Saysutshun, this small but meaningful island with so much under one's foot, is a healing place to be enjoyed by all.
What lies under your feet, where you're standing?
FOLKLIFE honours art and agriculture, business and creativity, food and farming, and dwellings and nature, all with a goal to slow the FOLK down.