Words and photos by Catherine Sohit for LINK Magazine, June 1, 2022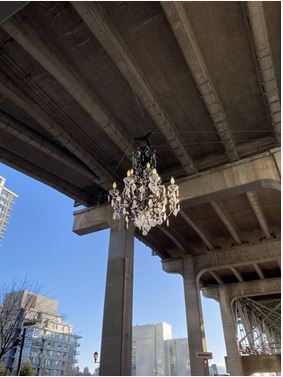 As much as I enjoy staying in with some takeout and Netflix, going out for a walk around the city is crucial for my mental health and well-being. So, after two years of being mostly stuck indoors due to the pandemic, I'm excited to head outdoors more often this summer!
I have to be honest—I'm not the most outdoorsy person. I go camping and hiking from time to time, but I always start to miss my WiFi and my favourite coffee shop after a few hours. The great news is that exploring outdoors doesn't have to mean going camping and hiking—you can also wander through the city. You'll be surprised by how many hidden gems you'll find.
I love finding cool and inspiring structures in Vancouver; it's like a streetscape scavenger hunt, especially for architectural enthusiasts. It's also a budget-friendly experience that only requires a sunny day, some comfortable shoes, a TransLink day (or monthly) pass, and—of course—your water bottle.
If you're like me and also enjoy exploring the city, read on to see some of my favourite buildings!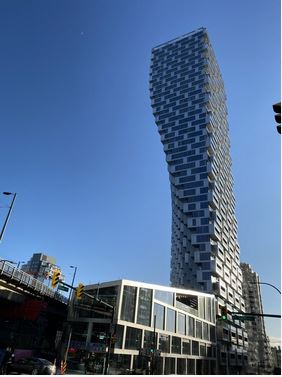 Project: Vancouver House; 52-story; mixed-use
Architecture: BIG Bjarke Ingels
Architectural styles: High-tech architecture, Neo-futurism
Completed in 2020
Location: 1480 Howe St, Vancouver, BC V6Z 1R8
Designed by Bjarke Ingels Group and completed in 2020, the Vancouver House is a residential tower incorporating neo-futurism and high-tech architectural styles. Located at 1480 Howe St, you'll spot it along the route through the Granville Bridge.
The complex includes three glassy prism podiums inserted between the bridge. At first, it might look like it's twisting, but this is due to the Vancouver House expanding from a triangular floor plan to a rectangle, giving the illusion that the building is winding. Fun fact: for the architect Bjarke Ingels, "it looks almost like a genie coming out of a bottle."
Don't forget to look at the public art installation centrepiece of the development—a $4.8 million spinning chandelier by Vancouver artist Rodney Graham, suspended beneath the Granville Bridge.
"I hope learning about these buildings will motivate you to walk around the city (or even your neighbourhood) to find more interesting and inspiring struc- tures, new and old."
View more photos and continue reading here.
LINK Magazine is a monthly publication of student ideas and culture, written and designed by students at the British Columbia Institute of Technology (BCIT).