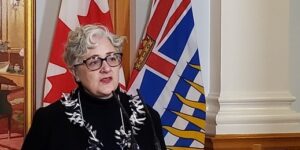 On April 17, 2023 at BC Book Day in Victoria, Lana Popham, Minister of Tourism, Arts, Culture and Sport announced $600,000 in new funding over three years for BC books and magazines.
The first $200K in 2023-2024 will be given to Books BC to assist book publishers who are facing supply-chain challenges and rising costs related to printing, shipping and distribution.
For each of the following two years (2024-2026), Creative BC will disburse $200K for projects that assist book and magazine publishers in remaining innovative, adaptive and competitive. The details of this funding are still to be worked out. See here for the official announcement.
The government also announced funding for the creative sector on April 19 during the Creative Industries Showcase, also in Victoria.