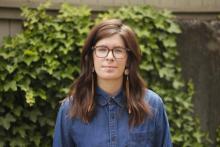 Jessica Johns is a nehiyaw aunty and a member of Sucker Creek First Nation in Treaty 8 territory of Northern Alberta.
She is the managing editor of Room magazine and a co-organizer of the Indigenous Brilliance reading series, a collaborative series between Room and Massy Books celebrating Indigenous women/2SQ storytellers.
She has been published in Cosmonauts Avenue, Glass Buffalo, CV2, SAD Magazine, Red Rising Magazine, The Rusty Toque, Poetry is Dead, and Bad Nudes, among others.
Her short story, "The Bull of the Cromdale" was nominated for a 2019 National Magazine Award in fiction and her debut poetry chapbook, How Not to Spill, is out now with Rahila's Ghost Press. – from Room Magazine website, Jan. 13/20.
Growing up in Alberta during the oilfield boom, the emergence of capitalistic culture made it hard for Jessica Johns to imagine a future for herself in writing or publishing.
Johns attended Grant MacEwan University as an English major. After graduating, Johns was accepted at the University of British Columbia to work on her Masters in Fine Arts.
Even though society pressured her to fit into a standard that she didn't identify with, Johns found a haven in literary circles. She circumvented the criticism of her career choice through academic achievement but still took the time out of her busy schedule to volunteer at literary magazines which were her original passion.
While studying at UBC, Johns began volunteering at PRISM international and Room Magazine. Her hard work paid off because just after two years of her involvement in the literary magazine industry, she became one of the editors of Room. The process was long but worth the wait because she loved how being an editor allowed her to work one-on-one with writers.
As the new managing editor, Johns says she's very excited about Room's two latest issues, which feature this year's contest submissions and an interview with Canadian poet of Cree/Metis descent Marilyn Dumont.
I asked her if she has any fears about literary magazine's future relevancy in the current digital media era. Johns replied that with changing times there must be a change in the medium in which publishers and editors choose to publish their work. Literary magazines will continue to thrive in the future if publishers and editors are smart in the distribution of magazine copies.
Johns also commented that though talent is always needed in the literary world, if emerging writers want to get into editing for magazines, they need to be networking.
Having the time and capacity to volunteer is a privilege to many, but if a writer can do this, then there is sure to be success for them in working for a literary magazine.
Jessica Johns is a much-needed voice in the literary world because she adds diversity to the Canadian experience that often isn't heard. Even though the way content is digested is continuously changing due to technology, the creators and publications that offer stories still have one thing in common: a love for literature.
— By Catherine Mwitta, student, Creative Writing, Douglas College, January 13, 2020.
Follow Catherine Mwitta at https://twitter.com/Cathieebee