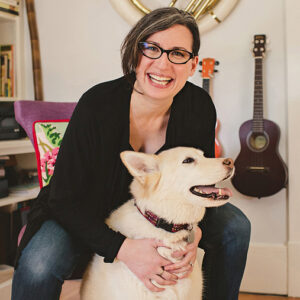 — By Crystal Peng, freelance writer and MagsBC intern, January 7, 2022
Over the last decade and a half, Kim Werker has established herself in the fibre crafts and publishing world as an editor, writer, instructor, and speaker. She has been involved in numerous, high-profile yarn craft publishing outlets, taught many online crochet workshops, and authored six books on crochet techniques and another on making ugly things on purpose as a creativity exercise. She is frequently an instructor and speaker at crafts industry events. In October 2020, she co-founded MagsBC member magazine Digits & Threads, and Nine Ten Publishing, where she is also a publisher.
I interviewed Kim to find out more about her journey into craft publishing and her role at Digits & Threads, and to get her perspective on her own experiences and the future of the publication. From our exchange, it is easy to see how Kim was able to come so far in this field. Her passion for craft and publishing is unmistakable. Her easygoing, focused personality brought humour and depth to her responses to my simple questions. Most importantly, her firm understanding of industry trends as well as a strong grasp of brand decisions distinguish her as a strong leader in an uncertain world of craft publishing.
First of all, let me ask you the most important question: knitting or crocheting?
Trick question! Is it breaking the rules if I say weaving? I've recently become utterly obsessed with it, and have rearranged my home office to accommodate a floor loom. But also, I worked for many years in crochet, so I'll always say crochet. I do knit as well, though. I could lie and say that yarn crafts are like children—I love them all equally. But really, at this particular moment, my deepest love is weaving.
How were you able to combine fibre crafts and publishing into a career? Were there specific key steps or skills that led to where you are today?
My career was launched in a right-place-right-time kind of way. Back in 2004, not long after I took up crochet, I discovered that though knitting was at the centre of a burgeoning online community, with lots of knitters starting blogs and some online magazines popping up, there was very little online about crochet. I had taught myself HTML in the late '90s, so while I was not at all a crochet expert at the time, I decided to see if I could put my website-building skills to work by starting a crochet website. The site quickly grew into an online crochet magazine, and through my work on it I ended up with some book deals, and was eventually hired to be the editor of Interweave Crochet, a print magazine. Through all of that, I discovered that I love working in editorial, and though I eventually decided to step back from crochet-exclusive work, my desire to work in publishing never faded.
I developed a ton of skills through my crochet publishing experiences. The most important ones when it came to launching our new publishing company, Nine Ten Publications, and online magazine, Digits & Threads, were related to establishing a clear editorial vision, working with contributors to bring that vision into reality, and developing strong stances about the business of making and selling a niche publication. But most important of all, I think, was how to connect online with a niche community.
What's the inspiration behind establishing Digits & Threads? I'm especially curious as to what the "Digits" part of the title refers to.
At the start of the pandemic, I lost most of my freelance editorial/copy-editing work, and a major source of my lingering craft income was also about to fold. There was tremendous disruption in the craft industry, which is mostly based in the U.S. While it had never seemed like the right time to act on my years-long desire to develop another online craft magazine—the market was saturated, or I didn't have enough time around other work to do it right—suddenly it seemed silly to put it off any longer. As well, it started to really bother me that all of my publishing work, in both magazines and books, had been done with U.S. companies. With the border closed and suddenly feeling like I had little to lose financially since I'd already lost most of my income, it felt like exactly the right time to explore whether an exclusively Canadian craft publication could fly.
I teamed up with Kate Atherley, out of Toronto, who shared my desire to focus on work here at home. Kate is a knitwear designer and author, and a technical editor. She didn't have as much formal experience making a publication as I had, but her technical and project management backgrounds were perfect complements to my experience and skill set. So through the first spring and summer of the pandemic, we planned out our new business. It's been years since we've seen each other in person, but I've spent more time with her over the last year and a half, in online calls, than I've spent with anyone outside the walls of my home.
The "Digits" part of the magazine name is a play on digital, and on fingers, since we focus on the handmade. So often online technology is pitted in a lazy way as the antithesis of the tangible, but it can enhance our experience of the tangible, too. I love working on a magazine that's about techniques that go back hundreds or even thousands of years, built on technology that's only existed, in a recognizable state, for two or three decades. (Not that I'm obsessed, but did you know that weaving is a direct antecedent to punch-card computing?)
What is so different about working on Digits & Threads from your other projects?
I was trained in an industry centred on a belief that a publication needed to be about one and only one craft, to effectively market to that segment. It always struck me as unnecessarily narrow (I mean, everyone I worked with did more than one craft). When we designed Digits & Threads, we decided the central focus would be to cater to curious crafters: folks who may do only one or two—or a dozen—crafts with yarn or fabric, and who love to learn about all the other kinds of things people make using other techniques, too. In a way, we have made the magazine we always wanted—one that doesn't assume we're an expert in any one thing (even if we are), but assumes that we are curious about everything. Our commitment to focus our editorial content exclusively on Canadian makers and projects, and to work only with Canadian contributors, adds a layer of focus on top of that. We Canadian crafters haven't had an opportunity to immerse ourselves in what's happening right here at home. Now we can!
What is the process of publishing content for Digits & Threads? What is your favourite part of the process?
We publish new content about three times each month, usually about two to three pieces at a time. Kate works most closely with our contributors until their pieces come in; then I copyedit. She does the initial layout on our site, and I work out any layout details that require more technical work. If we're publishing a craft pattern, I will lay it out separately as a PDF that we'll make available for download. Not terribly exciting stuff, really.
My favourite part of working in editorial is identifying opportunities to engage with our readers or build community. A perk of our highest level of membership is monthly virtual Studio Hours. We spend an hour on Zoom, often with a guest speaker who's a contributor who talks about a recent piece they've published with us. We always save time after the Q&A for folks to share projects they've been making. It just feels so good to connect with other makers about the things we love to make. When we publish something that's thought-provoking or that goes deep into a technique in a way that invites our readers to learn something new, having a chance to talk about it is like a gift. This is part of why I love working on a digital publication—we don't have a long lead time, which means we're still thinking about the pieces we publish when they come out, which means they're still fresh in our minds when we hear from our readers about them. It enables us to really be a part of the community and conversation we're building, and that makes all of our work that much more meaningful and enjoyable.
What would you say has been the most important factor in Digits & Threads's success? Are there any plans to move it to a physical publication with more in-person events once it is safe to do so?
I think connections, separate from any particular tech like Zoom, have been really important to the success of Digits & Threads. There's the social connection I mentioned above, but also connection to place, to home, to traditions. We're not waiting for someday anymore. We're not waiting until we retire to learn how to make a particular kind of thing. We're not allowing ourselves to ignore the richness of traditions and craft practices that have existed in these lands since long before settlers arrived. Digits & Threads, one story at a time, invites us to connect with our community here at home, to the vastness of knowledge and experience it offers, and to other folks who share our passions for this learning and for making things in fibre and fabric.
We are definitely hoping to participate in in-person events as we're able to, and online events long into the future I suspect. I don't think we'll be running our own events anytime soon; we're still a very small operation. But we will be launching our books division this year, with a crowdfunding campaign to support the creation of our first print book. That's something we're planning to do more of in coming years, while Digits & Threads remains exclusively digital.
––
Kim lives in Vancouver, BC with her husband and son, and their mutt who's named after a tree. Connect with her at kimwerker.com.
Find the Digits & Threads community on Twitter, Instagram, and LinkedIn.