Corporate overtures to Tla'amin are more than just a symbol: they're a start
By Abby Francis, Local Journalism Initiative Reporter, for qathet Living, November 2021.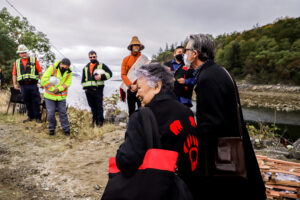 On October 1, for the first time in over 100 years, Tla'amin Nation held a ceremony at t̓iskʷət – the ancient village site at the mouth of the river. The fire, gifts, speeches and drumming were in recognition of the mill's name change to Catalyst Paper Excellence tiskwat.
This decision was made by Catalyst in a Memorandum of Understanding with Tla'amin.
"This name change is a long time coming and an important gesture to repair harm," said Hegus John Hackett.
The mill's vice-president of corporate communications, Graham Kissack, confirmed that the name change is just a first step in a reconciliation process with the Nation – which was moved off their land to make way for the mill over 100 years ago.
"We are working closely with Hegus John Hackett and the Tla'amin Executive Council to ensure the steps we take in building this new relationship are thoughtful and measured," said Graham.
Both Catalyst and Western Forest Products have publicly taken steps this year to repair relationships with Tla'amin. The corporate moves reveal a shift in the region. Overwhelmingly, Tla'amin members perceive that shift and the recognition as positive.
Catalyst engineer and Tla'amin Nation member Jordan Mitchell shares that the name change of the mill site is a huge step in reconciliation.
"It means a tremendous amount to me personally, as a Tla'amin man and as a 10-year employee at Catalyst. The history of that site is undeniable," Jordan says. "t̓iskʷət is the site's proper place name since time immemorial and the recognition of that feels like such a relief.
"I am overjoyed for the few fluent ayʔaǰʊΘɛm-speaking elders we have left who remember their grandparents who only knew that place by it's true name – t̓iskʷət. Somehow, I am even more happy for the children of our area who will grow up learning of the deep traditional heritage of the people who inhabited these lands and lived as part of it for millennia."
Elder Leslie Adams agrees.
"I think the name change is very good," said the former Chief. "I worked in the mill for about 37 years, I had always gotten along well with the others there. I was always on the tugboat, that was my favourite job there. I am happy with the name change to t̓iskʷət."
Elder Bob Blaney says that name changes can be a bridge.
"I think it is good that the mill and the city are looking at name changes and trying to understand our history."
Read the rest of this article here on pages 28-31.
Read more qathet Living on their website or through ISSUU.