An interview with the Principal of Maple Leaf International School – Wuhan by Jacalyn Kersey, Superintendent of Schools, China Maple Leaf Educational Systems for Principl(ed), March 2022.
Maple Leaf had been successfully operating British Columbia Offshore Schools in China for 25 years, and has endured its fair share of obstacles. No past experience, however, would challenge school leaders like COVID-19. The entire world of education was impacted by COVID-19, but that impact was first felt in Wuhan, and the first Canadian teachers to bear its consequences were BC teachers at Maple Leaf Wuhan.
Maple Leaf International School – Wuhan opened its doors in 2007 and by the 2019/2020 school year there were 1,500 BC students enrolled in grade 10–12, and more than 60 BC teachers. In February 2020, many staff left the country to enjoy their month-long Chinese New Year holiday. The four-week vacation turned into an accidental diaspora – to this day many of those teachers have not been able to return. When China closed its borders in March 2020, only eleven BC teachers remained in Wuhan. They endured a 79-day quarantine. They lived not knowing what the future would hold, but knowing that all the hospitals were full and that a massive hospital was being built to accommodate the ever-increasing number of COVID-19 patients. The kindness of Chinese neighbours kept them sane, and kept them supplied with food and resources.
In the midst of it all, over the course of a week in February, teachers learned to use an online learning platform. The next week, students learned the platform and teachers collaborated to upload lessons and resources. On March 1, 2020, full time classes resumed via the online platform. The year was completed with remote learning.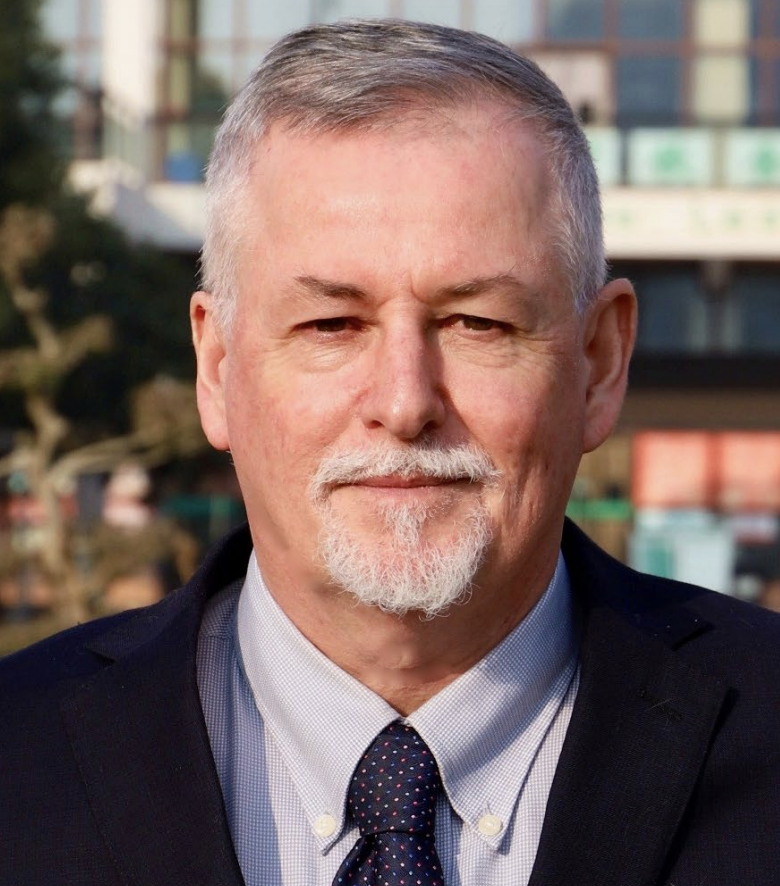 In March of 2020 – in the middle of the city's quarantine – Michael Brown accepted a position as Principal of Wuhan Maple Leaf High School. He began his tenure in August of 2020, shortly after the lockdown was lifted.
Jackie Kersey: Michael, you returned to China in the middle of a pandemic in February of 2020. In March you accepted the Principalship in Wuhan. What was going through your mind at that time? (What was he thinking!?)
Michael Brown: I returned to Weifang – the city where I was working in China – before the China border closed. I had decided to look for new opportunities and discovered there was a BC school in Wuhan looking for a Principal. I threw my hat in the ring. In retrospect I don't think there were too many hats in that particular ring at that time (laughs).
JK: Why Wuhan?
MB: My family asked the same question.
My major is history. The historian in me was curious as to what this experience
would be like – being there in that moment so soon after the 79-day lockdown.
Another reason was my wife and I, after retirement, have always wanted to donate our time to places that need support. I thought Wuhan could be a precursor to this. I imagined it would be a tough sell to get educators there.
JK: Were you not concerned about COVID-19?
MB: No. I thought that if there was a place where officials would want to prevent major outbreaks it would be Wuhan. When I arrived, the office staff lauded me as a hero. I should have run with that! However, I knew I would be safe.
JK: You mentioned the office staff. Was there teaching staff there when you arrived?
MB: We only had eleven teaching staff on the ground, folks who did not make it out or who chose to stay during the pandemic.
JK: How do you feel this experience impacted them?
MB: It had a huge impact. Imagine being stuck in the middle of a crisis in a country where you don't know the language, facing a disease that no one has ever experienced before. I would be surprised if anyone came out of that without some sort of PTSD. They are the real heroes.
To read the full article in PDF format, click here.
Principl(ed) is a compelling and powerful voice for BC's school principals and vice-principals, offering sector context along with a focus on learning practices, leadership, Indigenous education, and topics related to wellness.