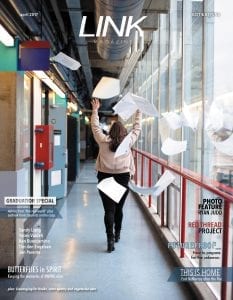 20 hours/week
Pay scale: $14.90/hour
Start Date: June 11, 2018
End Date: October 26, 2018
Application Deadline: May 28, 2018
Internship Overview:
The Publications Intern supports LINK magazine and the Publications Portfolio of the Marketing and Communications Department at the BCIT Student Association (BCITSA). Throughout the internship, the intern can expect to engage in a variety of responsibilities related to the production of a monthly cultural magazine (LINK) and its online properties, as well a variety of other publishing projects (online and in print).
During different phases of the internship, the intern may be expected to: perform an audit of current magazine operations, editorial processes, style guides and communication gaps. The intern will then help the Publications Manager document their findings and suggest improvements, working toward creating a consistent style guide, layout and design templates, contributors' workshops materials, and editorial calendar. The intern will also have an opportunity to observe and contribute to the production of non-magazine publications in areas of: layout, design, copy writing and copy editing.
Throughout the internship, the intern will also be responsible for managing all LINK magazine social media properties, helping to develop and post regular content while engaging prospective readers/contributors, and supporting partners. The intern will also plan and execute an ongoing calendar of contributions to our website (www.linkbcit.ca)
In the final phase of the internship, the intern will be deeply involved in executing the 2018/2019 editorial strategy including (but not limited to): producing, designing and contributing to the first printed issue of the editorial cycle; recruiting and interviewing prospective student staff; and orientating incoming student contributors to LINK magazine practices and processes.
Required Skills:
Print and Digital Design; Photography; Web Development; Writing/Editing; Project Management; Social Media Best Practices
Qualifications:
Intern must be enrolled in or recent graduate (within 3 years) of journalism, professional writing, publishing, communications or comparable program in an accredited post-secondary institution
Excellent grammar and English language communication skills
Editorial experience
Graphic Design experience and familiarity with Adobe CC (InDesign, Illustrator, Photoshop)
Experience using social media (Facebook, Instagram, Twitter), preferably in a business setting
Solid understanding of the issues relevant to student life in Canada
Job Duties:
Under the direction of the BCITSA Publications Manager, the intern may: 
Coordinate deadlines, write content, solicit contributions and edit content for LINK magazine website; then later, printed edition(s).
Coordinate advertisements with Sales Representative for some publications, while coordinating advertisements directly with companies for other publications
Collaborate with student editors for editorial sections of LINK Magazine
Conduct interviews and write articles as required for LINK Magazine
Coordinate with internal departments in order to establish and update content
Oversee social media presence for LINK: post and reply on our accounts, and comment externally
Update LINK website appearance and design online banners
Take and assist with digital photography for publications and our operational needs
Design promotional materials
Design and edit posters and flyers
Manage and cultivate authentic relationships with all staff and key internal and external stakeholders
Act as secondary contact point for publications portfolio
Attend internal meetings, committees, and both formal & ad hoc functions, as required to increase opportunities for the department and association as a whole
Help set portfolio-related goals and objectives as per our strategic plan
Ensure all policies are understood and being followed in the portfolio
Help coordinate printing with in-house and external print services
Set up and take down related events, and participate as needed
Coordinate student events / professional development workshops as it relates to LINK, collaborate with Events Manager as needed
How To Apply:
Please send a resume and cover letter to: Jobs@bcitsa.ca
Please put "LINK magazine Summer Internship" in your Subject line
About LINK magazine:
LINK Magazine is a hub for student ideas and culture at the British Columbia Institute of Technology (BCIT). Published in print and online by the BCIT Student Association (BCITSA), our content is produced by a team of student editors and contributors across BCIT's five campuses around the Lower Mainland. LINK magazines are printed 8 times annually and distributed for free at all five campuses and other community events. We publish stories about inspiring and influential students at BCIT, plus essays and features on just about any topic that connects readers to the world around them— from games and gadgets, to the environment, politics and pop culture.     Visit us online: www.linkbcit.ca