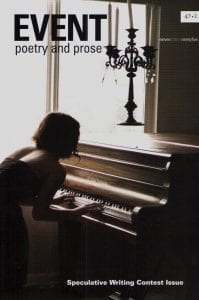 EVENT Magazine seeks a part-time assistant to work in several areas of small magazine activity. Reporting to the Managing Editor and Editor at our office in New Westminster, BC, the successful candidate will: work independently to produce and disseminate online content and manage social media accounts; help with marketing and promotion for our magazine, contributors, contests and events; and assist with administrative tasks and in organizing and running our fundraising book sale.
This is a 6-month position consisting of 7 hours per week from late November to May, with time off for statutory holidays and Christmas break, and with the possibility of renewal.
Payment will be at a rate of $20/hr + 9% in lieu of benefits.
Responsibilities:
creating, procuring, and posting content on EVENT's website, including author interviews, short articles, content from the magazine and archives, recordings of author readings, etc.
implementing a social media calendar and a management dashboard such as Hootsuite to coordinate posts across platforms; maintaining EVENT's social media presence by sharing EVENT news and events, calls for submission, announcements, web links, etc.
creating, developing and monitoring online campaigns to market our print and digital editions, contests and fundraising book sale
assisting with administrative tasks such as mailouts, direct mail campaigns and renewals
helping run our annual fundraising book sale
other tasks as needed
The ideal candidate will possess:
ability to take initiative and work independently
educational background in publishing, professional writing, journalism, communications, marketing or comparable program from an accredited post-secondary institution
demonstrated experience managing social media streams
excellent writing, grammar and English-language communication skills
a working knowledge of WordPress; knowledge of Adobe Creative Suite and/or SEO analysis an asset
experience in marketing and promotion
a passion for contemporary literature and an understanding of small literary magazines
skills in producing audiovisual content
exceptional organization and time management skills
strong interpersonal skills
experience in administrative tasks
To apply, please send a cover letter and resume to event@douglascollege.ca by November 12, 2018. Please note that only those short-listed candidates will be contacted.