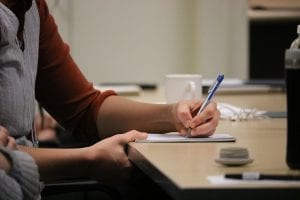 If you don't see your event here, please email Sylvia Skene, Executive Director, MagsBC with all details.
MagsBC reserves the right to post only those events of interest to its members.
---
Members
11 a.m. October 24, 2020
Launch of Room 43.3, Neurodivergence issue.
Register here (by donation).
Others
See also: Industry Inclusion and Equity Writing Programs, Conferences and Festivals
Writers Guild of America West
October 16-18
Vancouver Art Book Fair
Oct. 16 6-8 p.m. Members Opening Event
Oct. 17-18 12-5 p.m. Fair
Also: Art Book Month (October) – Special Events
Oct. 19-25, 2020 (plus special events)
The Vancouver Writers Fest
Vancouver, BC
Oct. 23-25, 2020
Surrey International Writers' Conference
Surrey, BC
Oct. 27 & Nov. 3, 2020 (2-part workshop)
Anti-Racism Training
for Magazine Media Professionals
Alberta Magazine Publishers Association
---
BC Alliance for Arts + Culture Workshops
For more information, visit: https://www.allianceforarts.com/alliance-workshops.
Oct. 15
Live Streaming 101+ with Robert Ouimet ($45 non-members)

Financial Fitness with Linda Gorrie in 3 parts:
– Oct. 28: The Basics
– Nov. 4: Reporting and Relationships (with funders)
– Nov. 18: Strategic Thinking
($45/part. Contact Joyce Wan joyce@allianceforarts.com to access a discounted rate for all three workshops.)

Nov. 25: Making Content Findable: An Introduction to Search Engine Optimization (SEO) 9:30 a.m.-12:30 p.m.with facilitators: Barb Taylor, Althea Manasan and Sage Lovell.
Focus: reaching new artists and audiences with disabilities. The workshop will include tips to support the inclusion of people with different disabilities by integrating proven accessibility best practices into SEO. (FREE!)
---
Nov. 19-20, 2020
Sound On: Design Thinkers 2020
Graphic Designers of Canada
Vancouver Playhouse, Vancouver, BC
Nov. 26-27, 2020
MagNet: Canada's Magazine Conference
Toronto, ON
Jan. 22-26, 2021
ALA Midwinter Virtual
(Indianapolis, IN – all sessions in Central Time)
Registration opens Nov. 5, 2020.
June 24-29, 2021
ALA Annual Conference
Chicago, IL