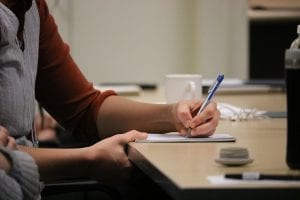 If you don't see your event here, please email Sylvia Skene, Executive Director, MagsBC with all details.
MagsBC reserves the right to post only those events of interest to its members.
---
See also: Industry Inclusion and Equity Writing Programs, Workshops, Mentorships, Conferences and Festivals
Writers Guild of America West
Magazine Industry – Online Events and Professional Development
Feb. 10, 2021 8-11 a.m. PT
AMPA's Alternative Revenue Boot Camp
With Matthew Stepanic, Glass Bookshop & Glass Buffalo, Sarah Elder-Chamanara, Madame Premier, and Omar Mouallem, Pandemic University
$70. MagsBC members can register at the AMPA member rate: $50
If you spent 2020 worrying that too much of your business strategy is tied to one or two revenue streams, then you are not alone. Each year the Federation of International Periodical Publishers releases its media trends report, and revenue and content diversification (events, licensing, paywalls) scores high with companies who are not just surviving, but thriving.
If you are ready to start replacing lost advertising revenue and growing your business in 2021, join AMPA for its Alternative Revenues Bootcamp on Feb. 10.
You'll hear from three colleagues who created new businesses and grew their audience when it didn't seem possible. You'll learn how they did it … from the light bulb to the launch. These stories are inspiring, and you can do it too!
Feb. 17, 2021 11 a.m.-12 p.m. PT
How To Be A Better Writer
Magazines Canada – free but must register
With Leslie Wu, freelancer, Forbes Life and Food Network Canada contributor, and Sheridan College Creative Writing & Publishing Program professor
Feb. 24, 2021 11 a.m.-12 p.m. PT
Building PR On a Shoestring with Every Issue
AMPA webinar
With Kim Shiffman
$45. MagsBC members can register at the AMPA member rate: $30
Does your small team struggle with promoting your issues and your business outside your four walls? Do you wonder how to build relationships that get your special issues and events on the radar for TV and radio? Wonder what makes the ideal person on your team for the job?
Kim Shiffman has spent years leading top Canadian media brands, and knows a few tricks about convincing other media that your story is worth covering.
Join AMPA for this informative webinar for editors, publishers and marketing teams handling their own PR.
March 17, 2021 11 a.m.-12 p.m. PT
Working Toward Equity
Magazines Canada –free but must register
With Kate Monro, Executive Director/Publisher, C Magazine
Other Online Events
Mar. 3-7, 2021
AWP Conference & Bookfair
Association of Writers & Writing Programs
Mar. 5-7, 2021
Paper Covers Rock Readers & Writers Festival (in-person)
Free readings
Salt Spring Island
May 1-15, 2021
Festival of Literary Diversity
May 3-7, 2021
BC Virtual Library Conference
May 27-June 4, 2021
Congress of the Humanities and Social Sciences 2021
Edmonton, AB
June 12-13, 2021
Editors Transform – Conference 2021
Editors Canada
June 23-29, 2021
ALA Annual Conference & Exhibition – Virtual
Visit here for exhibitor information. Includes Artist Alley Showcase for illustrators.
Oct. 2-3, 2021
Paper Covers Rock Readers & Writers Festival (in-person)
Workshops
Salt Spring Island
Oct. 21-24, 2021
Surrey International Writers Conference
Mar. 23-26, 2022
AWP Conference & Bookfair
Philadelphia, Pennsylvania