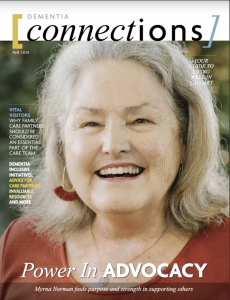 Dementia Connections magazine is seeking to hire an Editorial Assistant for an internship. We are in an exciting time of transition from a small regional magazine to a national publication, serving people impacted by dementia right across Canada.
You are passionate about making the world a better place through the creation of outstanding content and engaging communications. You are also resourceful, self-directed, organized and detail-oriented, with strong interpersonal and writing skills.  Our ideal candidate has a solid understanding of the mechanics of digital marketing.
Job duties
Supervised by Editor in Chief, Carolyn Brandly, the intern will:
Collaborate with the Editorial Team to research, plan and write articles.
Provide administrative support when needed, including liaising with writers, advertisers and Design, Production, Sales and Website Team members.
Write online content and social media posts.
Proofread and fact check.
Provide support to the Dementia Connections team with digital marketing initiatives and promotion of editorial material.
Educational requirements
Must be enrolled in or be a recent (within three years) graduate of journalism, publishing, writing or a comparable program at an accredited post-secondary institution.
Technical Requirements
Familiarity with Microsoft Word, Google Docs and Adobe Acrobat is essential.
Experience with WordPress and in developing social media content is ideal.
Internship duration: May 24 – Sept 10, 2021
Hours: 20 hours/week (remote work-from-home)
Wage: Starting $19.10/hour
Please send resume and cover letter/email to: Carolyn Brandly, Editor in Chief, editor@dementiaconnections.ca
Application deadline: May 14, 2021
No tags for this post.