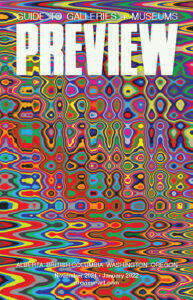 Listings Editor, Preview
For over 30 years, Preview has helped art and museum enthusiasts connect with artists' works and featured exhibitions in Alberta, BC, Washington and Oregon.
The magazine is not only a gallery guide and cultural advocate in the Pacific Northwest; since 1986, it has been recognized by Library and Archives Canada as "a historical record of art produced in this area. Public and museum libraries collect and retain copies of Preview for their permanent archives."
Preview is published five times per year, with an annual readership of 312,500.
Preview is seeking a Listings Editor, whose main responsibilities include:
Being the key contact for galleries and museums listing in Preview
Providing guidance re: listings submitted
Regularly updating Preview database
Editing listings for length and to fit the magazine's style guide
Following up with galleries and museums by email and phone when fact-checking and or/clarification is required
Proofreading listings before they go to print and online
Making corrections and updates to listings online when required
Updating editorial and listings content on website prior to launch of each issue
Managing our Instagram account.
Qualifications:
Strong writing and editing skills
Effective interpersonal skills
Ability to work to deadline, in a team environment
Background in visual arts preferred.
Estimated hours per issue: 80-90 per issue.
Total five issues per year.  Work can be done remotely.
Hourly rate commensurate with experience.
Application deadline: Monday, January 17, 2022
Starting date: mid-February, 2022
If interested, please send introductory letter and resume to: preview@preview-art.com
No tags for this post.