By Bridgit Lujan for Dance International, June 7, 2022
People come to Spain from all over the world to witness authentic flamenco in the iconic performance space known as the tablao. This small cabaret-like theatre, with an acoustic stage and limited seating, allows audiences to have an up close and personal experience of flamenco.
Typically thought of as being found throughout Spain, flamenco is actually concentrated primarily in the southern region of Andalucía (where flamenco was born) and in Spain's two largest cities, Barcelona and Madrid. Madrid is literally the "landing point" for most international visitors, who make up the majority of flamenco's audience. As the gateway city, Madrid has developed sought-after flamenco venues such as Corral de la Morería, Casa Patas, Café de Chinitas, Tablao Villa Rosa, and Cardamomo.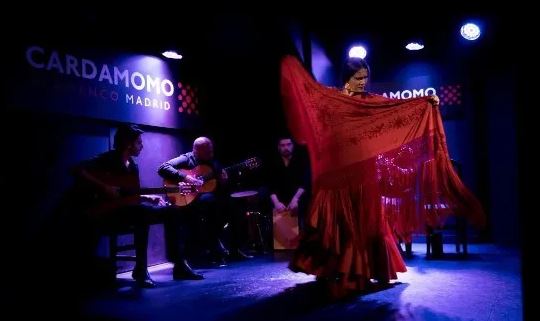 Tablaos provide essential jobs for artists, as well as opportunities for experimentation, the development of musical instinct, athleticism, and individual creativity. Performing in the tablao setting is how dancers gain and maintain these essential skills. Even the most elite of flamenco performers seek the tablao to prepare for their more high-profile tours, festivals, and theatre shows.
Paula Rodríguez, resident dancer at Cardamomo and 2021 winner of one of the most coveted flamenco dance prizes, the "Despante" from the Cante de las Minas competition, says, "The tablao is the place where you can best find your style and develop your personality as a dancer. In the tablao you are exposed to situations of challenging improvisation where success and error are presented to you daily. Thanks to that challenge you learn and evolve."
Continue reading this article here.
Dance International is devoted to featuring a wide spectrum of contemporary and classical dance from Canada and around the world.